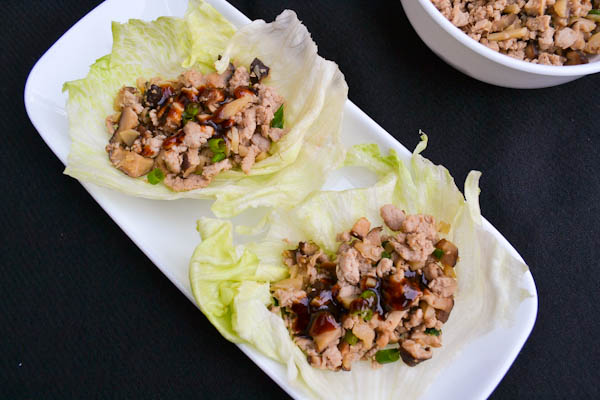 Lettuce wrap is a dish our family loves to eat on a regular basis. The family would always order this dish when we ate at a Chinese restaurant. However, since I've learned to make it myself, we no longer have a need to order it. What I love about it is that it is such a versatile dish. You can use chicken, turkey, pork, beef or tofu as the main protein. You can ground the meat or cut it in small cubes.
Lettuce wrap may be served as a snack, an appetizer or as a main course. It is very light, refreshing and so easy to make. What do I like about this dish?   I like the crunchiness of the lettuce and water chestnuts as I take I bite into it. I can eat a lot of this flavorful dish and I won't feel guilty at all

Ingredients
400 g ground chicken
7 pieces dried Chinese mushrooms
1 can (227ml) sliced water chestnuts, drained and finely chopped
¼ cup chopped green onions
2 tablespoons olive oil
1 teaspoon sesame oil
1 tablespoon soy sauce
1 tablespoon oyster sauce
1 tablespoon sherry
Hoisin sauce
1 head iceberg lettuce, separated, washed and dried
Instructions
Cover mushrooms with hot water and let stand for 20 minutes. Drain, remove the stems and chop the caps finely. Set it aside.
Heat oil in wok and stir fry chicken for 5 minutes or until no longer pink.
Stir in mushrooms, water chestnuts and green onions. Cook for 3 minutes.
In a small bowl, combine sesame oil, soy sauce, oyster sauce and sherry. Stir into the mixture in the wok. Mix well.
Serve with lettuce and hoisin sauce.
Enjoy!
http://salu-salo.com/chicken-lettuce-wrap/