I am a big fan of baby or little potatoes. I love cooking and eating them with the skin on. So when I saw these bags of little potatoes from Costco the other day, I couldn't resist , so I had to grabbed one.  I used some for the chicken pot pie I made for dinner. As for the rest, I roasted them Greek-style, with water, lemon juice, olive oil, oregano, salt and pepper. I served them as a side dish for the Greek chicken that I made.  It was tender and lemony; the way I like my potatoes to be.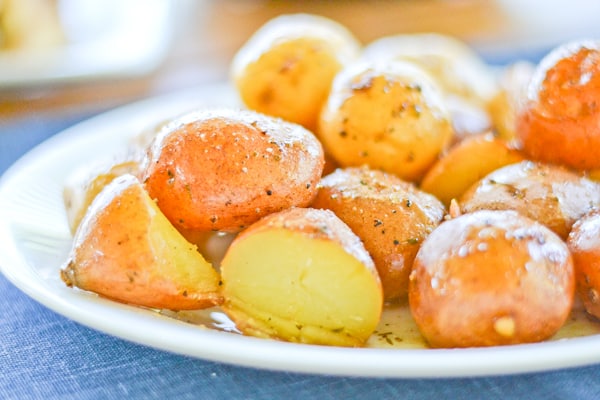 Greek Style Potatoes
Ingredients
2 lbs little potatoes, whole or cut in halves, depending on the size
1 cup water
½ cup lemon juice
⅓ cup olive oil
2 teaspoons dried oregano
Salt and pepper
Instructions
Preheat oven to 350°F.
Whisk lemon juice, olive oil, water and oregano in a small bowl to blend.
Toss potatoes with vinaigrette in a roasting pan.
Season potatoes with salt and pepper.
Cover pan with foil and roast potatoes for 1 hour. Uncover and continue roasting for another 30 minutes or until fork tender and golden brown, stirring occasionally.
Serve and enjoy!
Notes
Recipe adapted from: Christine Cushing