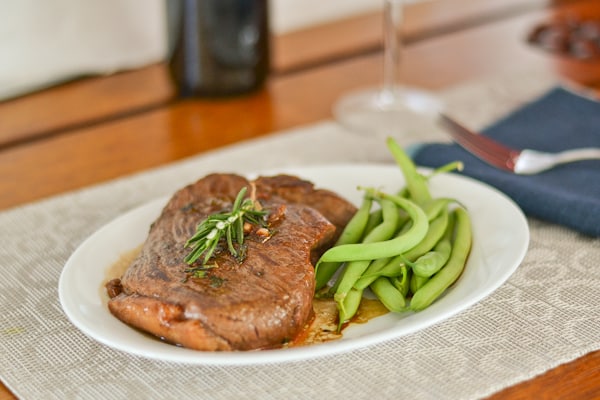 I was watching a show at a Food Network the other day with my 26 year old son from Calgary, who is in town for a visit. The host was making this lamb steak that my son and I were drooling over. We decided right there and then to make some for lunch. We headed out to the nearest supermarket and purchased the needed ingredients. We were lucky because the boneless lamb leg steaks we bought were on sale. So with little changes we were able to make and had delicious lamb steaks for lunch. This dish is so simple and easy to make; it was ready in less than half an hour. Yummy!

Lamb Steak with Rosemary and Red Wine Sauce
Ingredients
1 tablespoon olive oil
2 teaspoons Worcestershire sauce
2 boneless lamb leg steaks
2 tablespoons butter
1 tablespoon finely chopped fresh rosemary
1 clove garlic, minced
¼ cup red wine
Instructions
Mix the olive oil and Worcestershire sauce in a bowl. Add the lamb steaks and stir to coat. Let stand for 10 minutes.
Heat a frying pan and cook the steaks for about 3 minutes on each side, depending on how thick the steak and how you like it done.
Wrap the cooked steaks in a foil to rest.
Meanwhile, using the same pan, add the butter and let it melt.
Add the rosemary and garlic. Stir and then pour in the wine and let it simmer until the sauce reduces slightly.
Unwrap the steaks and pour any juices from the foil parcel to the sauce.
Transfer steaks to plate and pour sauce over it.
Serve and enjoy!
Notes
Recipe source: Nigella Lawson
http://salu-salo.com/lamb-steak-with-rosemary-and-red-wine-sauce/