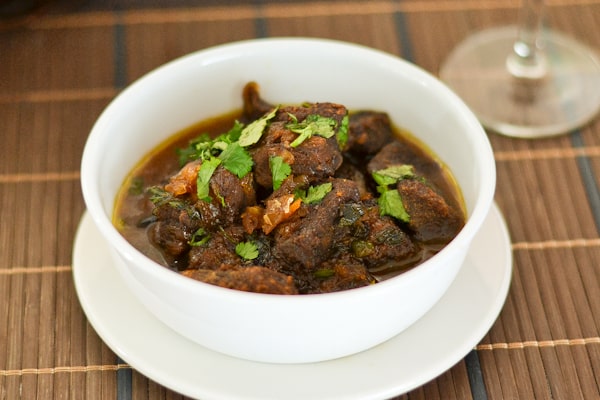 My youngest son chose this recipe from a list of ones that I want to try. I think he chose it because of its similarity to the beef stew with mushrooms that I always cook for him. Both dishes use the same kind of meat and are cooked slowly at a relatively low temperature. This recipe is different in the sense that it uses Asian ingredients like five spice powder, green onions and cilantro. It uses orange juice and orange marmalade thus giving certain sweetness to the gravy. The trick in making this dish is to slowly cook the meat for a long time until they are melt-in-your-mouth tender. In the end, my son ended up loving this delicious dish!

Ingredients
2 lbs stewing beef, cubed
4 tablespoons vegetable oil
½ teaspoon salt
¼ teaspoon ground pepper
2 onions, peeled and chopped
1 thumb size ginger, peeled and sliced
One 10 oz (284 ml) can of beef broth
1 cup orange juice
1 cup orange marmalade
2 tablespoons soy sauce
1 tablespoon Chinese five spice powder
1 bunch of green onions, chopped
A handful of cilantro, chopped
Salt and pepper to taste
Instructions
Sprinkle beef with ½ teaspoon salt and ¼ teaspoon pepper. In a dutch oven, heat oil over medium high heat. Brown beef in batches. Remove and set aside.
In the same pan, add the onions and ginger. Stir fry for a few minutes until they are lightly browned.
Return the meat to the pan and add the beef broth, orange juice, marmalade, soy sauce and five-spice powder. Bring the mixture to a boil, reduce heat, cover and let simmer for an hour or until the meat are tender. Taste and season the broth with salt and pepper.
Serve and enjoy!
Notes
Recipe source: The Best of Chef at Home
http://salu-salo.com/orange-ginger-beef/