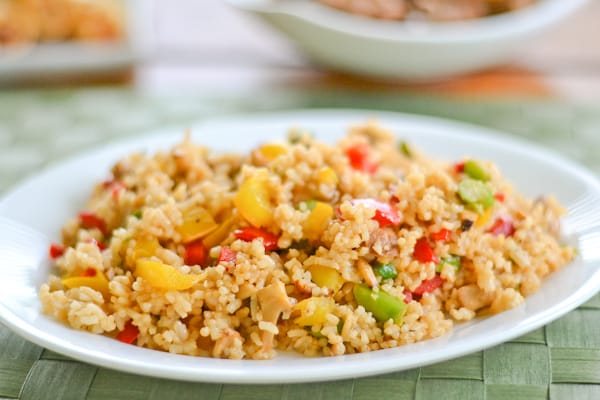 I made vegetable fried rice to use up leftover vegetables in my fridge and to try a vegetarian fried rice. It is such an easy dish to make and versatile, as well. You can make it as colorful as your local supermarket allows you to.  I like to use fresh shitake mushrooms, asparagus and bell peppers but some popular vegetables to use are green peas, kernel corn, carrots and green beans. In less than half an hour, you have a light and simple meal to enjoy.

Vegetable Fried Rice
Ingredients
6 cups leftover cooked rice, white or brown
3 tablespoons olive oil
2 green onions, finely chopped
2 garlic cloves, finely chopped
5 fresh shitake, cremini or white button mushrooms, finely chopped
6 asparagus spears, cut into ½ inch pieces
1 large red bell pepper, diced
1 large yellow bell pepper, diced
3 tablespoons soy sauce (or adjust to taste)
1 teaspoon sesame oil
Instructions
Heat a wok or large skillet over medium high heat. Add the oil and swirl to coat the bottom and sides. Add the green onions and garlic and stir fry until fragrant, about 20 seconds. Add the mushrooms, asparagus, red and yellow bell peppers and stir fry for another 1-2 minutes.
Stir in the rice, breaking any remaining clumps with a spatula. Drizzle the soy sauce and sesame oil over the rice. Continue cooking the rice, stirring constantly, until the rice starts to turn golden and well mixed with the vegetables 2-3 minutes. Transfer to a serving plate.
Enjoy!
Notes
Recipe adapted from "The Chinese Takeout Cookbook".