My name is Liza and I love to cook and eat. Salu-salo is a Tagalog word for gathering and eating together, which my family loves to do during birthdays and holidays. I am not a cook by profession, but I spend a lot of time in the kitchen, cooking for my family.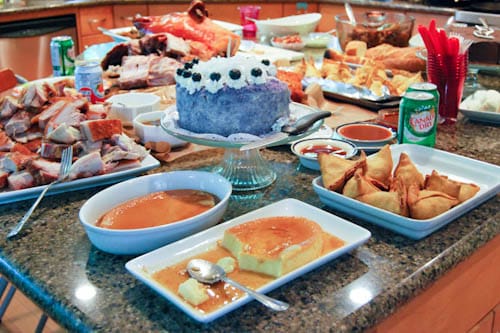 In 1992, me, my husband and three kids immigrated to Vancouver, Canada from the Philippines. At first, it was a challenge to cook authentic Filipino food due to unavailability of some ingredients. However, from the help of others in the Filipino community and through my own experimentation, I have adapted some Filipino recipes to use locally available ingredients. Most of the dishes that I like to cook come from my own childhood and are influenced by my birthplace, Gapan, Nueva Ecija, Philippines. My food has also been influenced by my part-Chinese heritage.
Now, all three of my kids are grown up. Two of them still live in Vancouver. My other son, Kendal, now lives in Calgary and works as a software developer. He helps a lot with the technical and IT side of this blog. He also shares a passion for cooking and food, so he may post a recipe from time to time.
Our goal is to share recipes that are simple to cook, use ingredients that are easy to find, and are, of course, delicious.
I'd love to connect with you at liza at salu-salo . com. For business inquiries, please contact kendal at salu-salo . com