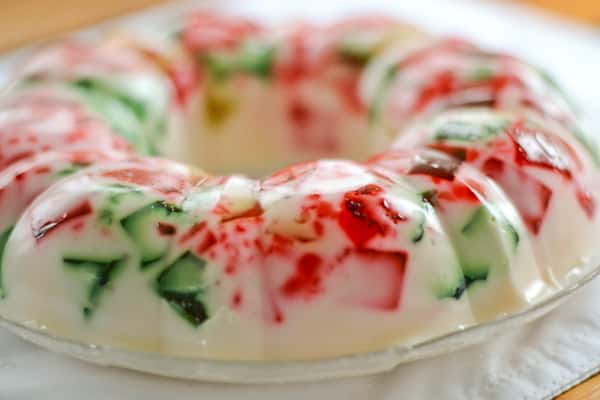 My sons couldn't get enough of this cathedral window jelly dessert. I am not surprise because I feel the same way. This dessert which consists of cubed colored gelatin embedded in creamy mold is made popular by Goldilocks Bakeshop, a popular bakery in the Philippines. Filipinos often serve this dessert during this time of the year, hence the red, green and yellow gelatin. But it does not mean you can't have it the rest of the year. You can even make it using your favorite gelatin flavor. I used a silicone Bundt pan but you may use any jelly mold you like.  Enjoy and Happy New year everyone!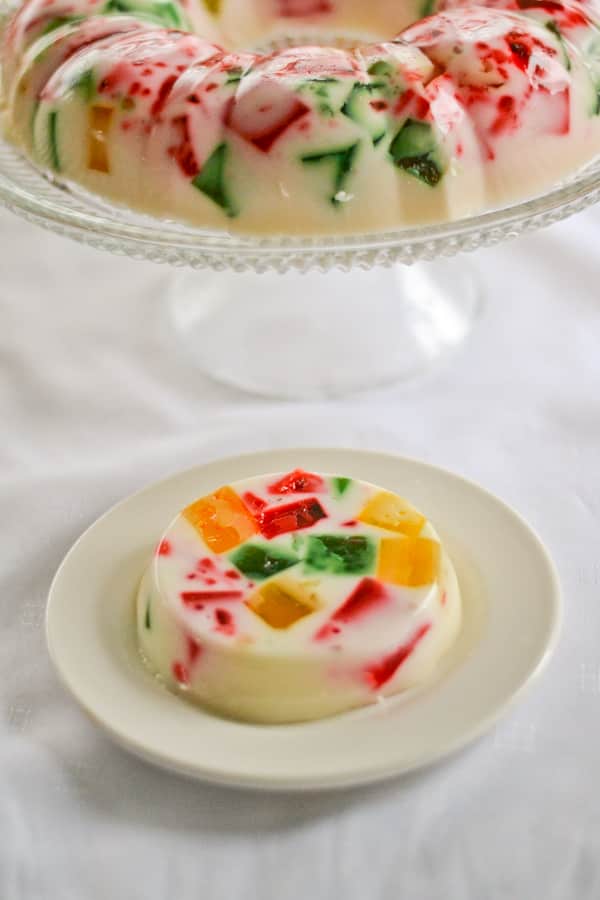 Cathedral Window Jelly Dessert
Ingredients
Colored Gelatin
1 (3oz/85g) box of strawberry jelly powder
1 (3oz/85g) box of lime jelly powder
1 (3oz/85g) box of lemon or mango jelly powder
1 cup boiling water per 3 oz box
⅓ cup cold water per 3 oz box
Cream Jelly
½ cup pineapple juice
½ cup condensed milk
½ cup heavy cream
4 tbsp sugar
¼ tsp salt
1 ½ cups water
3 tbsp unflavoured gelatin
1 cup boiling water
Instructions
In three separate mixing bowls, completely dissolve the contents of each envelope of flavored jelly powder in 1 cup boiling water. Stir in ⅓ cup cold water to each. Transfer each gelatin flavor in square or rectangular containers and refrigerate until they set. Cut the flavored gelatin into cubes and arrange in your preferred jelly molds (I used a silicone bundt pan).
In a medium bowl, combine pineapple juice, condensed milk, heavy cream, sugar and salt. Stir with wire whisk until incorporated. Set aside.
In another mixing bowl, combine 1½ cup water and 3 tbsp unflavored gelatin powder. Stir until the powder completely dissolves. Allow the mixture to rest for 10 minutes.Gently add 1 cup boiling water to the gelatin mixture then continue stirring until the mixture is clear.
Pour the gelatin mixture into the milk mixture, whisking until well incorporated. Pour this gelatin-milk mixture evenly over the jelly cubes in the mold. Allow to set in the fridge for at least 4 hours or overnight.
To serve, turn the jelly dessert out onto a serving plate.
Enjoy!
Notes
Recipe adapted from "Goldilocks Bakebook".
Nutrition Information
Serving size:
162 g
Calories:
154 g
Fat:
4.6 g
Saturated fat:
2.8 g
Carbohydrates:
21.6 g
Sugar:
18.8 g
Sodium:
119 mg
Fiber:
0.9 g
Protein:
8.8 g
Cholesterol:
17 mg