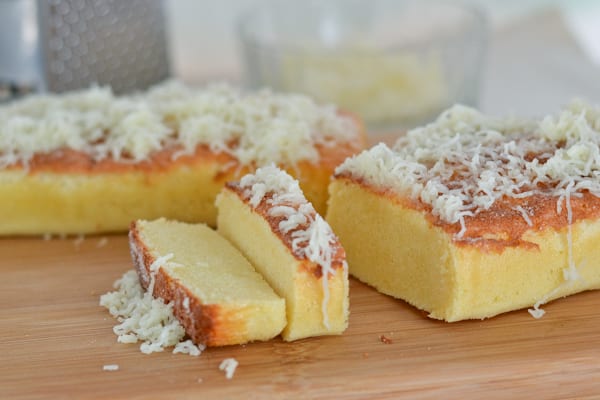 Taisan is a popular Filipino chiffon cake topped with melted butter and sugar.  The first time I tried taisan was two years ago when I visited the Philippines. My niece introduced me to it and since then, I always have it every time I return for a visit. I was happy when I saw the recipe for taisan in the Goldilocks bakebook that I got recently and I had to make it. I already made it twice and every time, my family enjoys it.
The taisan that is normally bought from the bakery comes in small slices. In this recipe, I used a regular loaf pan to make my version of taisan. The original baking time calls for 8-10 minutes but the taisan I made took 40 minutes to bake. After letting it cool for 10 minutes, I topped it with melted butter, sugar and grated cheese. Yummy! 🙂
Taisan (Filipino Chiffon Cake)
Ingredients
1 cup+ 4 tablespoons cake flour, sifted
1 teaspoon baking powder
½ teaspoon salt
Egg yolks of 4 large eggs
½ teaspoon vanilla extract
¼ cup sugar
¼ cup evaporated milk
1 ½ tablespoons water
½ tablespoon unsalted butter, melted
¼ cup vegetable oil
Egg White Side:
Egg whites of 6 large eggs
¼ teaspoon cream of tartar
½ cup sugar
For toppings:
melted butter
sugar
grated white cheddar cheese
Instructions
Preheat oven to 325°F. Lightly grease a loaf pan with butter.
Sift together the dry ingredients (cake flour, baking powder, and salt). Set aside.
In a big bowl, combine egg yolks, vanilla extract, 1/ 4 cup sugar, milk, water, butter and oil. Using an electric mixer, mix until well blended.
Add dry ingredients and continue mixing for 2 minutes until batter is smooth. Scrape once in a while. Set aside.
In a separate bowl, beat egg whites, cream of tartar and sugar for 1 minute at low speed. Increase to medium speed for 4-5 minutes or until a medium-peak is form.
Gently fold the egg yolk mixture to whipped egg whites until the ingredients are combined.
Pour batter over prepared pan.
Bake for 35-40 minutes or until a cake tester inserted comes out clean.
Let it stand for 5-10 minutes before removing from the pan.
Brush the top lightly with butter, then sprinkled with sugar and grated cheese.
Serve and enjoy!
Notes
This recipe was adapted from the cookbook "Goldilocks Bakebook".