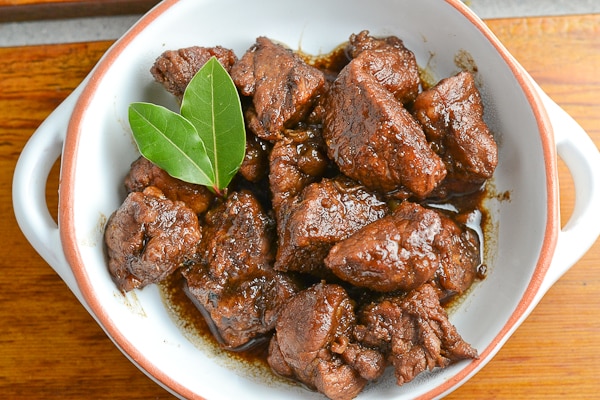 I just recently realized that I have not shared any traditional Filipino pork adobo recipe yet. I was surprised because I grew up eating different varieties of adobo, some of which were Filipino Pork Adobo with Tofu and Oyster Sauce and the Chinese version: Braised Pork in Soy Sauce. Traditional pork adobo consists basically of garlic, soy sauce, vinegar, bay leaf, ground pepper and water. Typically, the meat is simmered first in said ingredients until tender and then drained and browned before serving with the sauce. In this recipe, I moved away from the conventional way by browning the pork pieces first. I then added the rest of the ingredients and let the mixture simmer until the pork meat was tender. I like my meat super tender so I let it simmer longer, at least 45 minutes. I also prefer to use dark soy sauce in this dish to give the meat a darker color. After 45 minutes of simmering, the pork meat was dark, tender and very tasty. The addition of honey at the end made it taste even better. Yummy!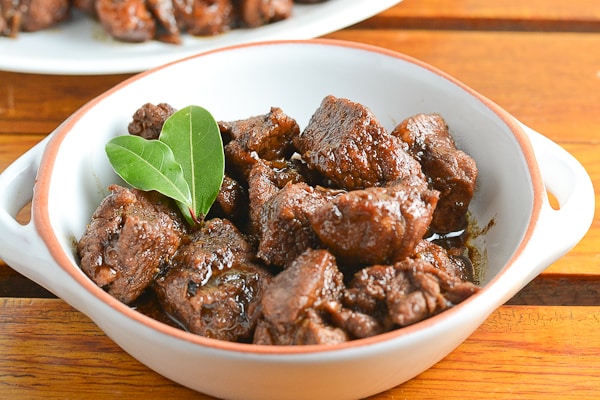 Pork Adobo
Ingredients
2 lbs pork belly or pork shoulder, cut into bite-size pieces
2 tbsp vegetable oil
3 cloves garlic, chopped
⅓ cup light soy sauce
⅓ cup vinegar
1 bay leaf
½ tsp freshly ground pepper
1 cup water or more as needed
1 tbsp honey or brown sugar
Instructions
Heat oil in a large skillet; rotate to coat sides of skillet. Add pork pieces and cook until meat is browned.
Add garlic and sauté for a minute. Add soy sauce, vinegar, bay leaf, pepper and water.
Bring to a boil, reduce heat and simmer for 45 minutes, covered, or until pork are tender. (Watch it carefully. Don't let it dry out.) Add water ½ cup at a time several times until pork meat is tender and the desired amount of sauce has been reached. Stir in honey or brown sugar.
Serve over steamed rice.
Enjoy!
Nutrition Information
Serving size:
1 serving
Calories:
398
Fat:
30 g
Saturated fat:
10 g
Carbohydrates:
3 g
Sugar:
2 g
Sodium:
1041 mg
Fiber:
0
Protein:
26 g
Cholesterol:
97 mg