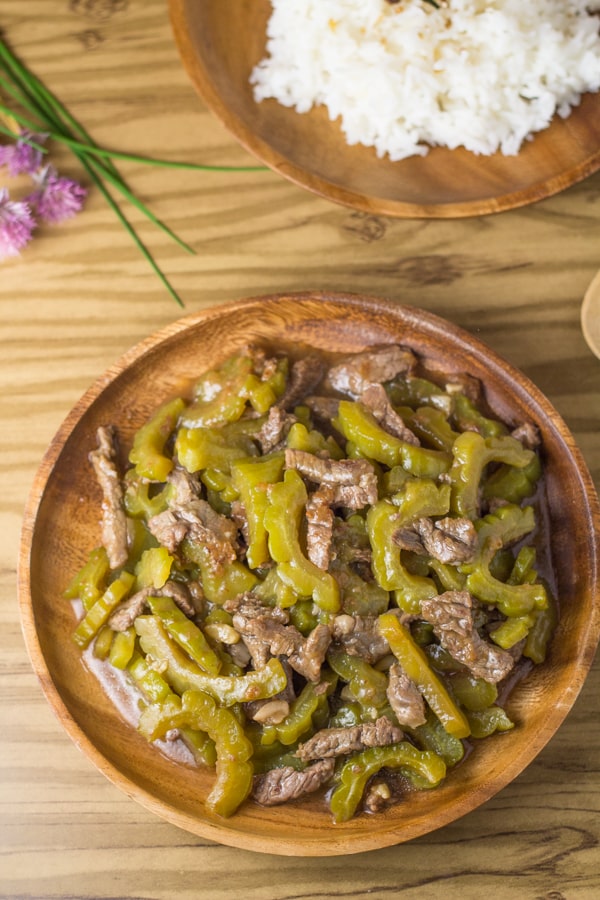 I have a new toy in the kitchen, a heavy non-stick pan my cousin gave me for Christmas. I regularly use it for frying, stir-frying and sautéing. I used it again yesterday when I made ampalaya con carne for dinner. Ampalaya, also known as bitter melon or bitter gourd, is one of my favorite vegetables. It is a popular vegetable amongst Filipino, despite its bitter taste.  It is in fact, one of the main ingredients in a popular Filipino dish, pinakbet (Vegetable stew). While others simply stir-fry it with garlic, tomato and eggs, I prefer to cook it with beef and oyster sauce. The beef is first marinated to make it flavorful and more tender. It is then browned and stir-fried with bitter melons, oyster sauce and soy sauce. This dish is tasty, delicious and easy to make. My husband and I love this dish and surprisingly, my oldest son does too! 😀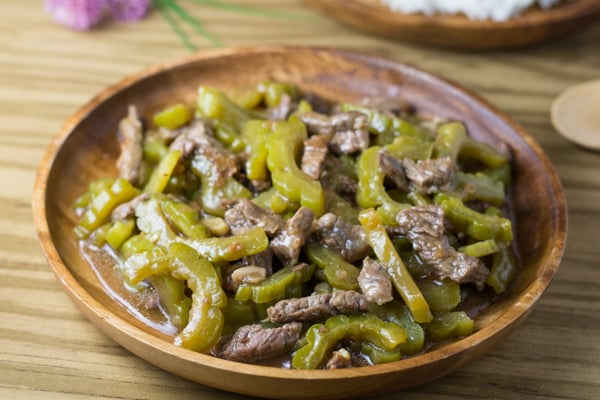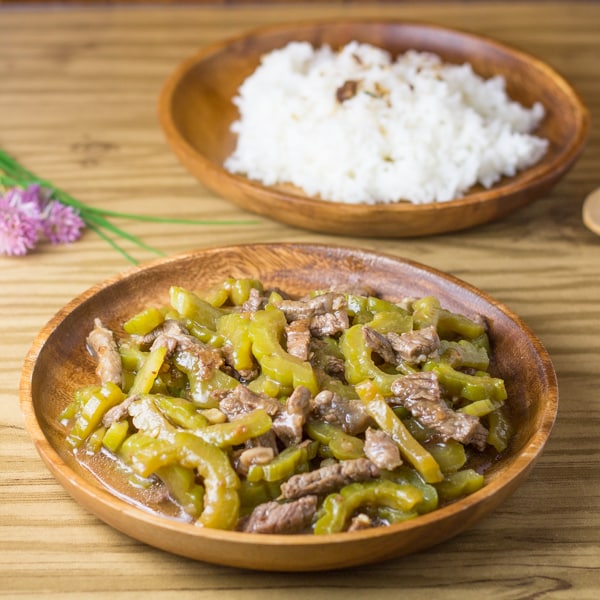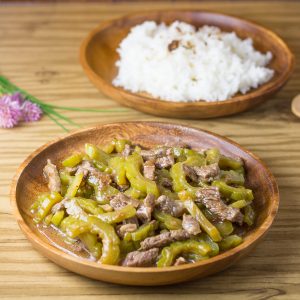 Ampalaya con Carne (Beef with Bitter Melon)
Ingredients
½

lb

beef sirloin tip steak

2

medium pieces

(about 1 lb) ampalaya (Chinese Bitter Melon)

2

tbsp

avocado or olive oil

2

cloves

garlic,

chopped

3

tbsp

oyster sauce

¼

cup

water
Marinade:
1

tsp

soy sauce

2

tsp

rice wine or sherry

1

tbsp

cornstarch

1

tsp

sesame oil
Instructions
Slice the sirloin steak into thin, narrow strips.

In a medium bowl, combine the ingredients for the marinade. Add the sliced beef and stir to combine. Set aside.

Meanwhile, prepare the bitter melon by slicing in half, lengthwise. Remove the seeds with a spoon and then slice each half crosswise as thinly as possible.

Using a non-stick skillet, heat the oil over medium high heat. Add the garlic and saute for 30 seconds. Add the marinated beef and stir-fry until the beef is no longer pink, around 3 minutes. Add 1 tablespoon oyster sauce and stir to coat.

Stir in the bitter melon. Add the water and the remaining 2 tablespoons oyster sauce. Stir and then cook, covered until the bitter melon is crisp tender, around 3 minutes. Turn off the heat and let the skillet sit, covered for 5 minutes.

Transfer to a serving plate and serve with steamed rice.