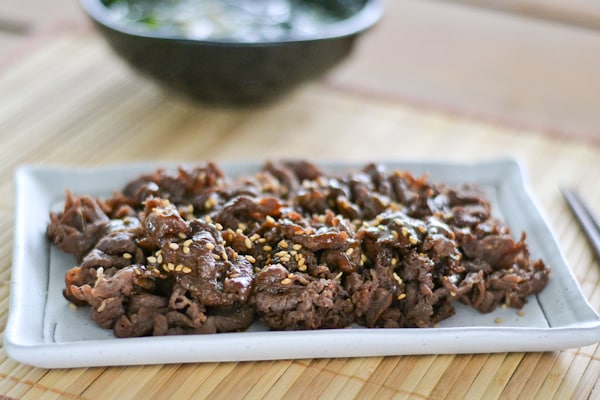 Tuesday was a happy and memorable day for our family because my youngest son graduated from university.  The family attended the ceremony, including my middle son who flew in from Calgary. After the ceremony, we went to a reception where my son received two awards. It was a proud moment for me and my husband and I am sure my other two sons were also proud of their youngest brother.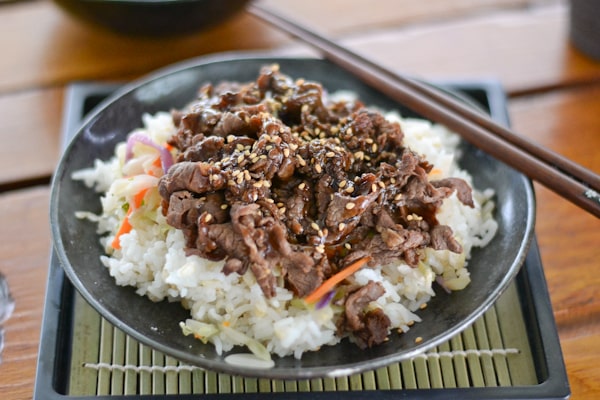 The recipe that I am posting today is my youngest son's favorite among all the teriyaki dishes: beef teriyaki.  It is a popular dish to order in any Japanese restaurant.  Other cuts of beef may be used but in this recipe, I used beef rib steak because it is very delicate and needs less time to cook.  This dish can be eaten as is or over steamed rice and stir-fried coleslaw with the thick teriyaki sauce poured over it. Delicious 😀
Beef Teriyaki
Ingredients
20 oz (574g) sliced beef rib steak or sirloin tip steak
2 tablespoons soy sauce
2 tablespoons sake
2 tablespoons olive oil
Roasted sesame seeds (optional)
Teriyaki sauce
¼ cup soy sauce
¼ cup sake
¼ cup brown sugar
¼ cup mirin
1 teaspoon cornstarch dissolved in 1 tablespoon water
Instructions
Marinate the beef with 2 tablespoons soy sauce and 2 tablespoons sake for 30 minutes.
In a non-stick pan, heat the olive oil over medium high heat. Add the beef and stir fry for 5-10 minutes or until liquid from the marinade had evaporated and the beef are browned. Transfer to a plate.
In a small saucepan, combine the soy sauce, sake, brown sugar and mirin. Let boil, then add cornstarch mixture, stir and cook until thick. Pour the sauce over the cooked beef and sprinkle with sesame seeds, if using.
Serve with steamed rice.
Enjoy!
Notes
Recipe adapted from: Rasa Malaysia