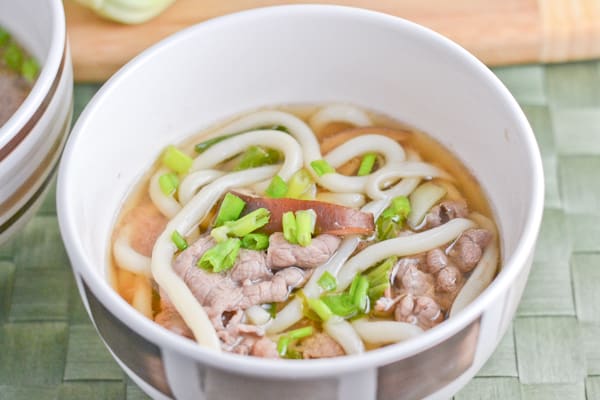 My youngest son and I love this dish and it's our favorite soup to order when we eat at any Japanese restaurant. Last week, he was not feeling well so I ordered some for him. The beef udon soup I ordered was so simple and it had just a couple of ingredients: beef and shredded cabbage. I made my own beef udon soup on Tuesday and I used two of my favorite ingredients; shitake mushrooms and bok choy. I used dashi (Bonito fish soup stock) as the base for this soup and flavored it with mirin, sake and salt. The beef that I used was the one typically used for shabu shabu soup so it was really tender and did not require much cooking. My family enjoyed this beef udon soup with shitake mushrooms and bok choy. It was tasty, comforting and satisfying. Enjoy!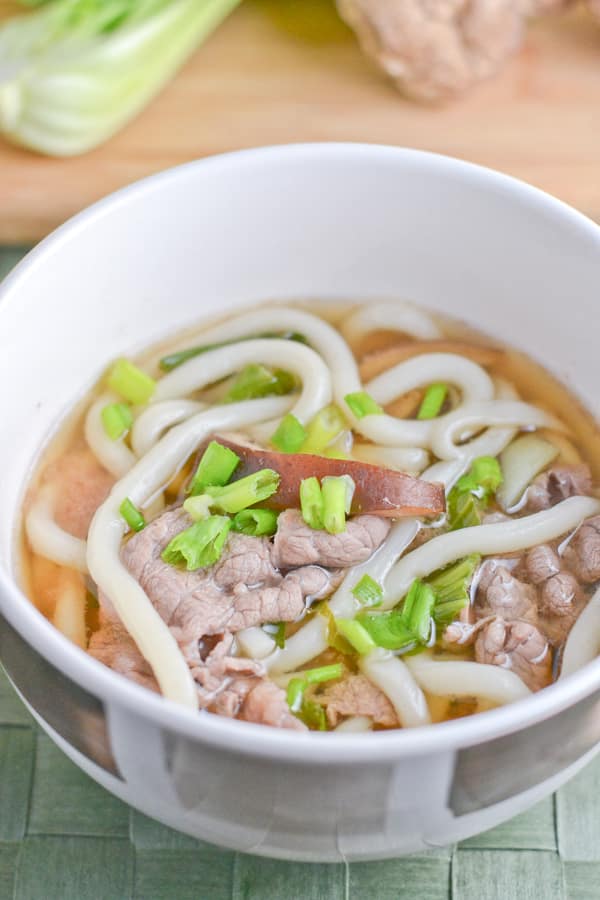 Beef Udon
Ingredients
8 dried shitake mushrooms
8 cups water
5 tsp Hondashi
4 tbsp soy sauce
2 tbsp mirin
1 tsp sake
½ tsp salt
9 oz bok choy, rinsed and chopped
1 ½ lb packaged fresh udon noodles
1 lb shabu shabu style beef e.g. beef blade chuck roll
Chopped green onions
Instructions
Soak the shitake mushrooms in hot water for 20 minutes. Squeeze out the excess water. Discard the stems and thinly slice the caps. Set aside.
In a medium size stockpot, bring water to a boil. Add Hondashi, soy sauce, mirin, sake and salt; continue to boil until granules are dissolved.
Add bok choy, mushrooms and noodles. Cook for 4-5 minutes or until noodles are tender. Add beef and cook for another minute.
Transfer to a soup bowl and garnish with chopped onions.
Serve and enjoy!