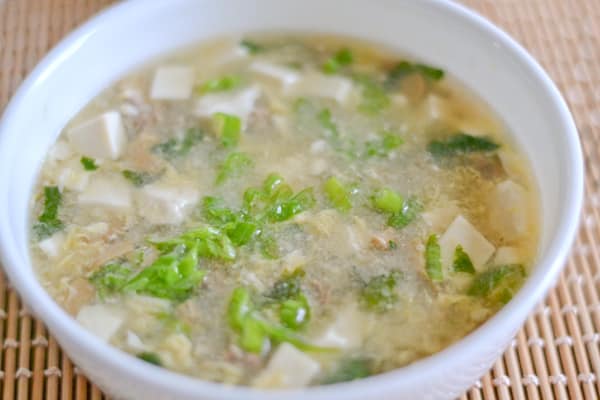 I love this soup. I learned this satisfying soup from my sister-in-law when she served it for dinner when I visited her one day. She ordered it from a local Chinese restaurant and since then, I always order it especially when I or any of my family members are feeling under the weather. I love this soup so much; I searched online for the recipe. I found a similar one but with a different name, Westlake beef soup. It contains the same ingredients except it does not have sliced mushrooms. To make it similar to the one from the restaurant, I added sliced mushroom and adopted the name as well. The ground beef was first marinated in a mixture of rice wine, oyster sauce, soy sauce, sesame oil and sugar, thus making the beef so tasty. The addition of tofu, cilantro, green onions and mushrooms make this soup more flavorful and gratifying.  This soup is also simple but delicious!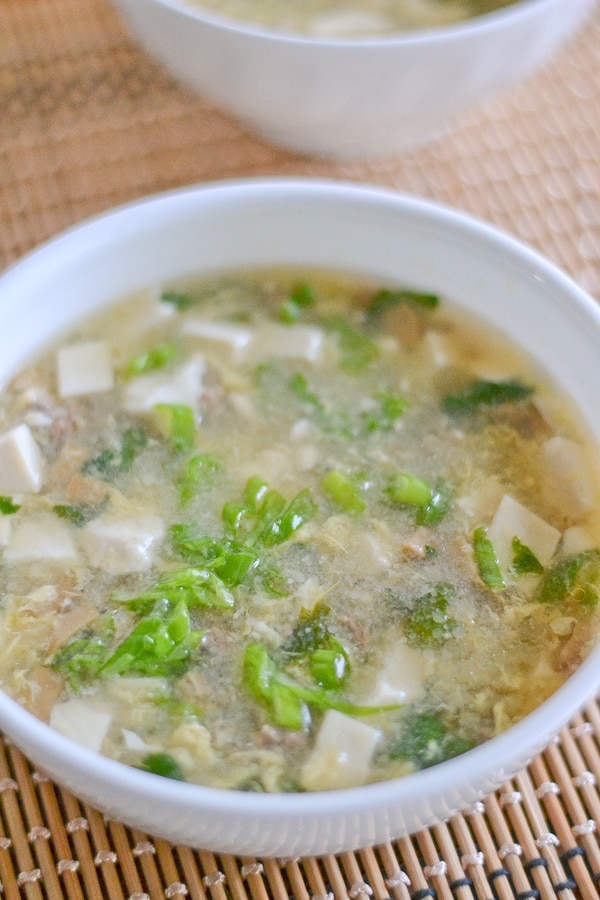 Minced Beef with Cilantro Soup
Ingredients
½ lb lean ground beef
1 (530g) soft tofu, drained and cut into small cubes
¼ cup cornstarch
2 eggs, lightly beaten
⅔ cup chopped cilantro
¼ cup chopped green onions
1 (284ml) can sliced mushrooms, drained and diced (optional)
8 cups chicken stock
Salt and pepper to taste
Beef marinade
2 tsp rice wine
1 tsp oyster sauce
1 tsp soy sauce
1 tsp sesame oil
½ tsp sugar
Instructions
In a bowl, combine the marinade and ground beef; mix well. Marinate for 15 minutes.
Bring the chicken stock to a boil. Lower the heat to medium and add the marinated ground beef. Cook for 2 minutes, using chopsticks to break up any lumps.
Add tofu, cilantro, green onions and diced mushrooms (if using) to the soup. Stir and season to taste.
In a small bowl, dissolve ¼ cup cornstarch in ¼ cup water. Slowly add the mixture to the soup, stirring until the soup thickens.
Remove from heat and immediately pour in beaten egg in a steady stream to form flower patterns on the surface.
Garnish with chopped green onions and serve.
Enjoy!
Notes
Recipe adapted from chinesesouppot.com