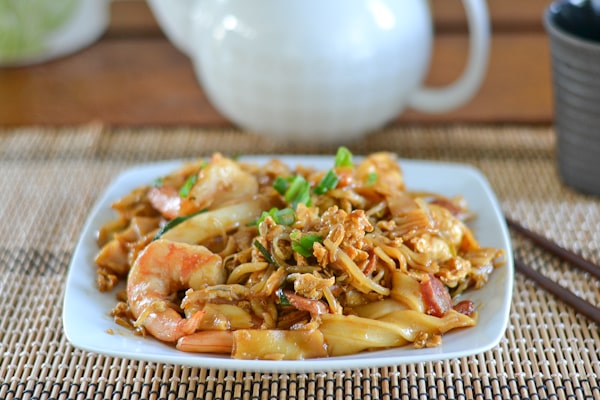 Char Kway Teow is a popular South East Asian noodle dish which consists of fried flat rice noodles in sweet soy sauce and chili sauce. Each country has its own version of this dish but uses the same ingredients; shrimps, Chinese sausage, bean sprouts, eggs and chives.
My oldest son, a food enthusiast, introduced this dish to us. We all finally tried it when we went to our favorite Malaysian restaurant. We found it really delicious so we added this awesome noodle dish to our long list of favorite foods.
This recipe is a modified Singapore's version of char kway teow. The original recipe calls for cockles and making chili sauce from scratch.  I used shrimps to replace the cockles and I used hot sauce instead of chili sauce. It still tastes just as good and it only takes 15 minutes to cook 😀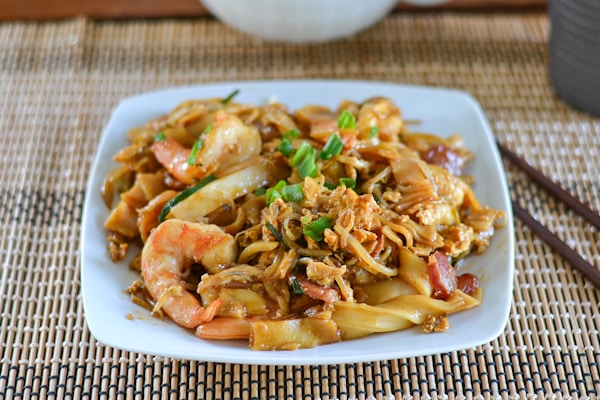 Char Kway Teow
Ingredients
1 lb shrimp, peeled and deveined
11 oz fresh flat rice noodles, separated and loosen
11 oz bean sprouts, washed and drained
2 Chinese sausages, thinly sliced and fried
1 oz chives, cut into 2-inch length
6 tablespoons vegetable oil
2 cloves garlic, chopped
6 tablespoons water
1 teaspoon salt
2 tablespoons dark soy sauce
2 tablespoons sweet soy sauce (kecap manis)
4 eggs, beaten
Chili sauce or hot sauce
Instructions
Heat a large wok or skillet over medium high heat. Add 3 tablespoons oil and the eggs. Scramble the eggs quickly and transfer to a plate.
Using the same wok, add the remaining 3 tablespoons oil. Fry the garlic until light brown. Add the bean sprouts and rice noodles. Stir well and then add in the water, salt and dark soy sauce. Stir-fry for couple of minutes.
Stir the scrambled eggs into the noodles and mix well. Add chili sauce (I used Frank's red hot sauce) to taste.
Add Chinese sausages and shrimps; stir-fry for 2 minutes or until shrimps are cooked.
Add chives and sweet soy sauce; toss for ½ minute to combine well.
Transfer into a large serving plate and enjoy!
Notes
This recipe was adapted from the cookbook "The Best of Singapore's Recipes: Everyday Favorites".