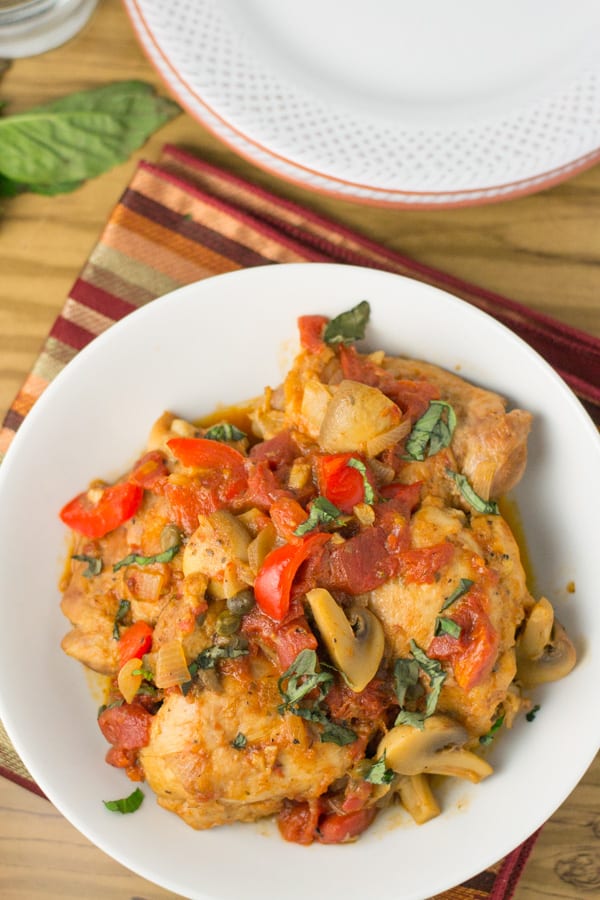 I came home very tired the other day. I had a busy day at work and I had to stay an extra hour. I was looking forward to a good dinner and a relaxing time watching my favorite TV show. For dinner I had chicken thighs thawed in the fridge. After looking through my cookbooks and online, I decided to make chicken cacciatore.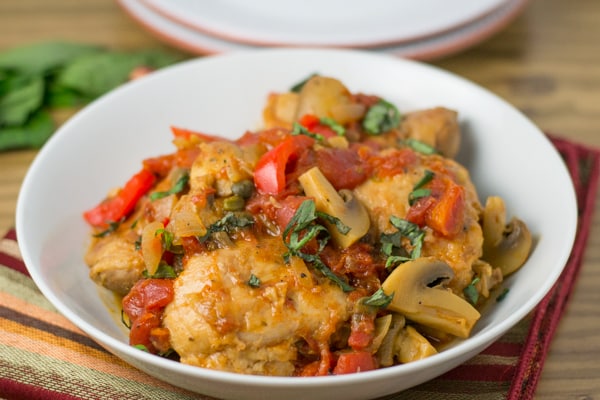 Chicken cacciatore is an Italian dish consisting of chicken parts braised in onions, garlic, peppers, oregano, diced tomatoes and chicken broth. Red or white wine may be used to add flavor to the dish. Other vegetables like mushrooms, olives and capers may also be added according to one's preference. This dish reminds me of Chicken Afritada, a popular Filipino dish. Both dishes have chicken braised in tomatoes, pepper, garlic and onions. The only difference is that chicken cacciatore does not have potatoes.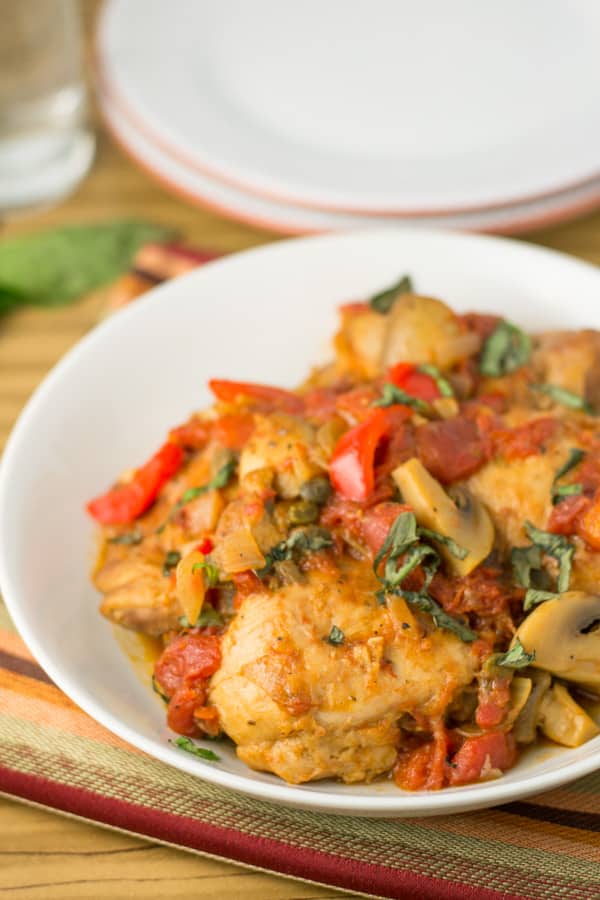 I enjoyed my dinner that night. The chicken meat and sauce over the rice was so delicious and very satisfying. I had leftovers so I had it for lunch the next day at work 🙂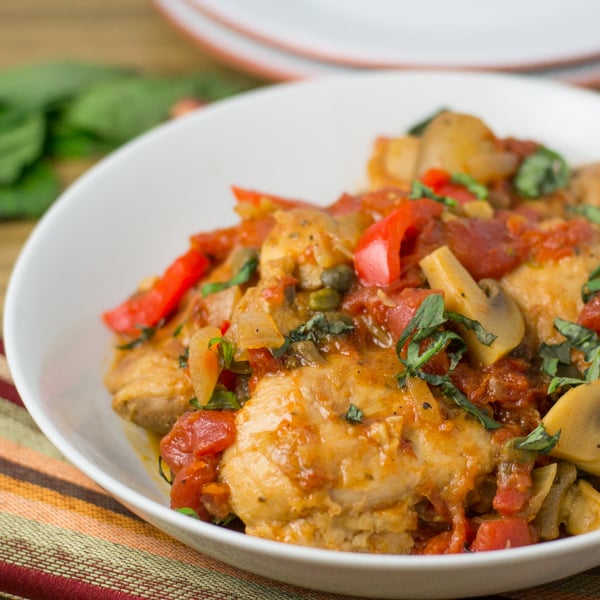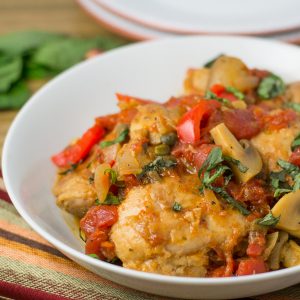 Chicken Cacciatore
Ingredients
8

skinned chicken thighs or any chicken parts of your choice

Salt and pepper

to taste

Flour

for coating

3

tbsp

vegetable oil plus more

if needed

1

large red bell pepper

chopped

2

cups

fresh mushrooms

halved or quartered, depending on the size

1

onion

chopped

3

cloves

garlic

minced

¾

cup

dry white wine or chicken broth

1

28-ounce can diced tomatoes with juice

¾

cup

chicken broth

3

tbsp

drained capers

1 ½

tsp

dried oregano leaves

¼

cup

coarsely chopped fresh basil leaves
Instructions
Sprinkle the chicken pieces with salt and pepper and then coat each piece lightly with flour.

In a Dutch oven, heat oil over medium heat. Add chicken pieces and cook just until brown, about 4 minutes per side. Remove chicken and set aside. Cook in 2 batches, if needed.

Using the same pan and adding more oil as needed, sauté the onion, garlic and bell pepper for 3 minutes or until onion is soft. Season mixture with salt and pepper. Add the wine and simmer until reduced in half, about 3 minutes. (Skip the last step if not using white wine)

Add the tomatoes with juice, broth, capers, mushrooms and oregano. Return chicken pieces to the pan and turn them to coat in the sauce. Bring to a boil and continue to simmer over medium-low heat for 30 minutes or until the meat is tender. Constantly stir the mixture to avoid meat sticking at the bottom of pan.

Using a tong, transfer chicken to a platter. If necessary, boil the sauce until it thickens slightly, about 3 to 5 minutes. Spoon the sauce over the chicken and sprinkle with basil.

Serve on pasta or rice.

Enjoy!
Notes
Recipe adapted from Giada De Laurentiis