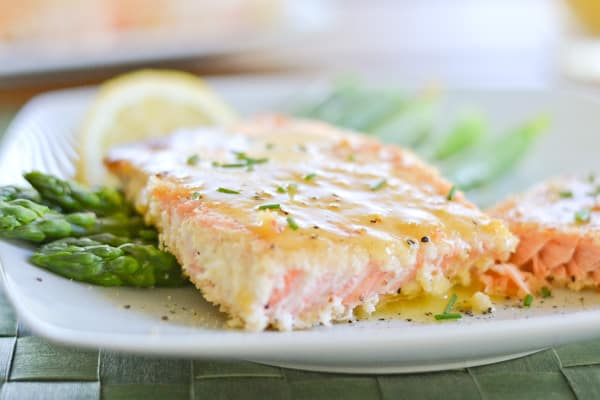 Here's another easy salmon recipe. The salmon fillets were soaked in milk first, coated, baked and served with a delicious honey mustard sauce. At first, I was intrigued with the idea of soaking the salmon in milk. I've read that the reason behind this is to get rid of its strong fishy smell. I don't normally soak my salmon in milk because I cook it regularly and I am used to its smell. I've tried it anyway just to see if there's a difference in taste and texture and I found no significant difference. The important thing to remember is not to overcook the salmon.  It turned out moist and succulent and with the honey mustard sauce to go with it; it was a delicious meal everyone enjoyed. 😀

Crusted Salmon with Honey Mustard Sauce
Ingredients
1 (1.5lbs) skinless salmon fillet, cut into 4 pieces
1 cup milk
½ cup breadcrumbs (I used Panko bread crumbs)
2 tablespoons grated Parmesan cheese
1 egg
¼ cup butter, melted
1 tablespoon Dijon mustard
2 tablespoons honey
Instructions
Preheat oven to 350°F. Spray a baking sheet with cooking spray.
Line the salmon pieces in a single layer in a baking dish. Pour the milk over the salmon and set aside for 15 minutes to allow the salmon to soak in the milk.
Combine the bread crumbs and Parmesan cheese together in a shallow dish. Beat egg in a separate shallow dish. Remove the salmon pieces from the milk, shake off excess milk, dip in egg, and then coat with bread crumb mixture, pressing gently to adhere.
Place coated salmon pieces on the prepared baking sheet and bake for 15 minutes or until salmon fillets flake easily with a fork, turning once.
In a bowl, stir the melted butter, mustard and honey together. Drizzle over the baked salmon pieces. Serve with your favorite steamed vegetables.
Enjoy!
Notes
Recipe adapted from allrecipes.com