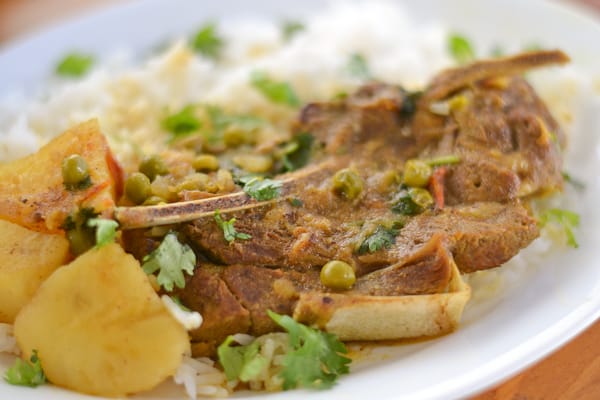 A few months ago, a dear family friend of ours gave us a package of frozen lamb chops. I had no idea what to do with them, so I kept them in the freezer. Recently, the same friend made curry lamb chops and let my husband try them. My husband loved it and let me know how good they were. After searching online, I found a recipe that was not only simple but also had familiar ingredients. Even better, the recipe consists of potatoes which my family loves. This curry dish took one hour and twenty-five minutes to make. The result was very tender, tasty and delicious lamb chops which my whole family loved and enjoyed. This recipe is definitely a keeper!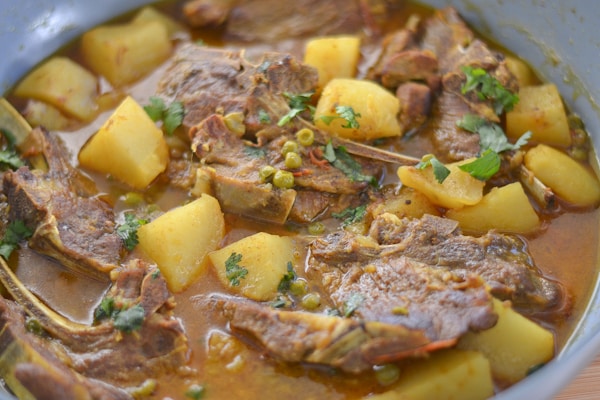 Curry Lamb Chops
Ingredients
8 bone-in lamb chops
Salt and freshly ground peppers
3 tbsp vegetable oil
1 onion, chopped
1 large tomato, chopped
4 cloves garlic, minced
1 thumb-size fresh ginger, grated
1 tbsp curry powder, or according to taste
¼ tsp turmeric powder
1 tsp cumin
1 tsp garam masala
1 tsp salt
½ cup frozen peas
2 -3 medium size potatoes, peeled and cubed
Chopped cilantro for garnish
Instructions
Pat chops dry with paper towels and season with salt and freshly ground peppers. Set aside.
Heat the oil in a large sauté pan or skillet over medium-high heat. Add onion and cook until brown and soft.
Add the tomatoes, garlic, ginger, curry powder, turmeric, cumin, garam masala and salt.
Mix well and cook until all the ingredients are blended, about 5 minutes.
Add the lamb chops to the pan and mix into the curry sauce. Cook for about 8 minutes, stirring occasionally.
Add peas and enough hot water to cover the chops. Lower the heat and simmer for 30 minutes, adding more water if necessary.
Add the potatoes and cook for about 20 minutes or until the potatoes are fully cooked. Garnish with coriander.
Serve with steamed rice.