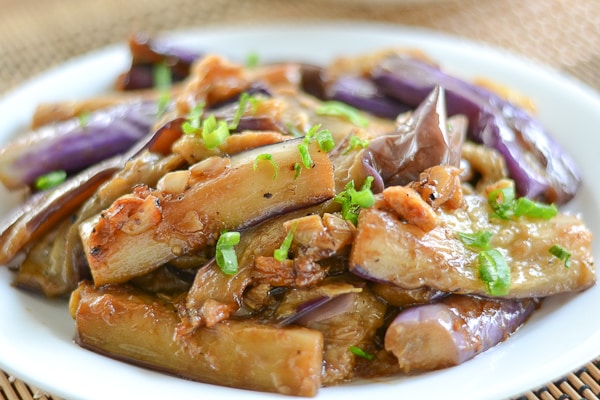 Adobo is one of the most popular dishes in the Filipino cuisine. Meat, seafood or vegetables are cooked in a sauce consisting of vinegar, soy sauce, garlic, black pepper and bay leaf. Chicken and pork are the two most commonly used meats in making adobo while water spinach (kangkong), okra, banana flowers (puso ng saging) and eggplants are the favorites among vegetarians. Although I have cooked and shared many adobo recipes before, I have yet to share a vegetarian one. Eggplant adobo is my family's favorite. The slices of eggplants are fried first and then cooked in the adobo sauce. The result was delicious eggplants that were delicately tender and with a bit of tanginess taste to them.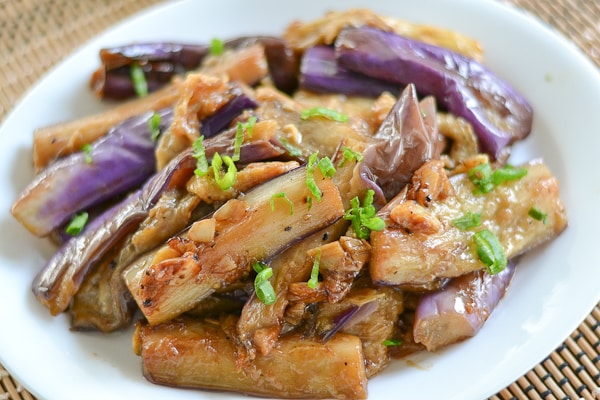 Eggplant Adobo
Ingredients
5 medium size Chinese eggplants, ends trimmed
½ cup vegetable oil or more as needed
⅓ cup vinegar
¼ cup soy sauce
¼ tsp freshly ground pepper
5 cloves garlic, chopped
1 tsp sugar
Instructions
Prepare the eggplants by cutting in half lengthwise and then cutting each half into 2-inch pieces.
Heat vegetable oil on wok or non-stick frying pan. Fry eggplants, in batches until brown on both side, adding more oil as needed. Drain on paper towels. Set aside.
Pour off excess oil from pan. Add vinegar, soy sauce, ground pepper, garlic and sugar to the pan; bring to a boil. Add fried eggplants, lower the heat to medium, cover and cook for 2-3 minutes or until eggplants are soft. Gently stir to coat eggplants with the sauce. Turn off the heat and leave the covered pan on the stove for couple more minutes (the eggplants will continue cooking). Then transfer to a serving plate.
Serve with steamed rice and enjoy!