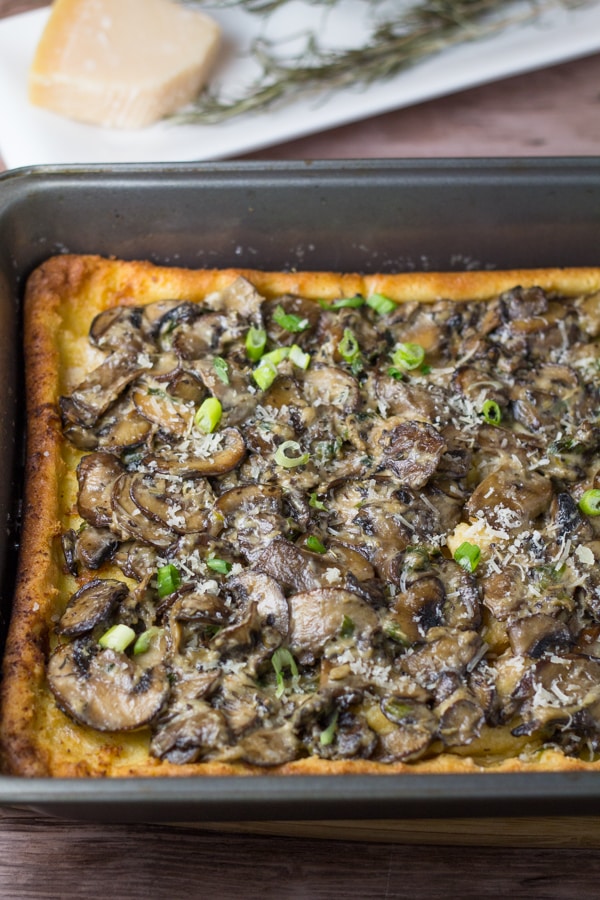 This mushroom popover casserole recipe was my first attempt at making a popover. A popover is a light, hollow roll made from egg batter like that of a Yorkshire pudding. A popover is typically baked in a muffin tin or popover pans. However, in this recipe, a baking pan is used instead.
In this recipe, the egg batter puffed up in the oven while baking and then sank when taken out of the oven. The creamy sauteed mushroom filling was then spooned over the popover and put back in the oven until heated through.
My family and I had these mushroom popovers for breakfast the next day. I first warmed it up in the toaster oven and served it with a sprinkle of Parmesan cheese. I love the earthy taste of the mushroom filling and crispy texture of the edges.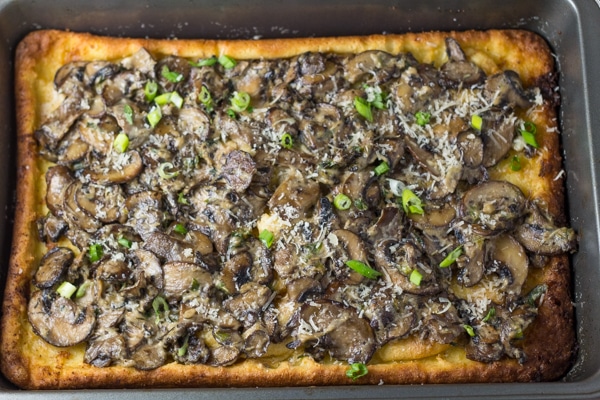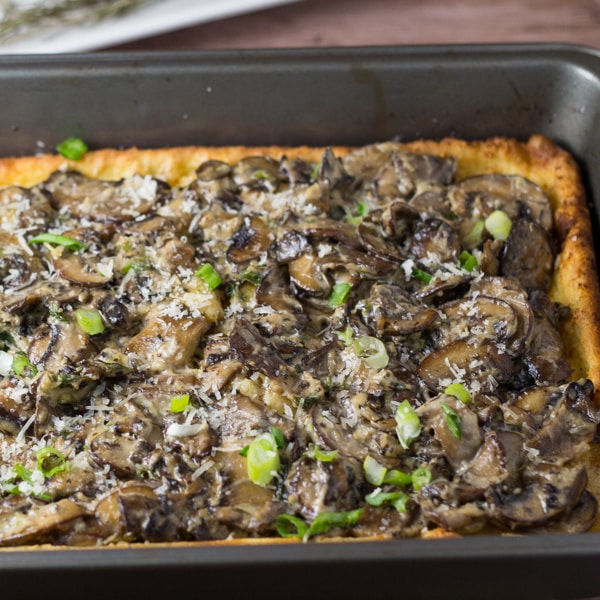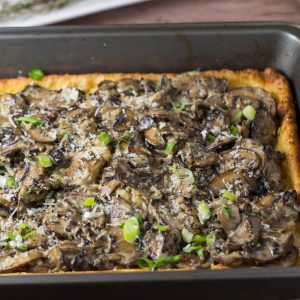 Mushroom Popover Casserole
Ingredients
Mushroom filling:
4

tbsp

olive oil

1

lb

cremini mushrooms,

thinly sliced through the stems

¼

cup

thinly sliced green onions

2

cloves

garlic,

minced

½

tsp

dried rosemary

½

tsp

dried thyme

Sea salt and freshly cracked black pepper,

to taste

½

cup

mascarpone cheese
Popover batter:
4

large eggs

1 ½

cups

whole milk

1 ½

cups

all-purpose flour

1

tsp

sea salt

4

tbsp

unsalted butter

Grated parmesan cheese for sprinkling
Instructions
In a large skillet, heat oil over medium high heat. Add mushrooms and sauté, stirring often, until tender and liquid has evaporated, about 10 minutes. Add green onions and garlic; continue sautéing for 2 minutes. Stir in rosemary and thyme; season to taste with salt and pepper. Remove from heat and then stir in mascarpone cheese. Set aside.

Position rack in the middle of the oven. Preheat oven to 450 degrees F.

In a large bowl, beat eggs and then whisk in milk. In a medium bowl, whisk together flour and salt. Add flour mixture to egg mixture, whisking until batter is smooth. Set aside.

Spray bottom and sides of a 9x13-inch baking pan with cooking spray. Add butter and place in the preheated oven for 3-5 minutes, or until melted. Using oven mitts, remove pan from oven and carefully tilt it several times to distribute butter. Add batter and bake for 15 minutes, or until it puffs up and lightly brown around the edges.

Without removing the pan from the oven, reduce oven temperature to 350 degrees and bake for 15 more minutes. Remove pan from oven and then spoon over mushroom filling over popover. Return to oven and bake for another 10 to 12 minutes, or until mushrooms are heated through and edges of the popover are golden brown.

Using a sharp knife, cut popover into 6 to 8 servings. Serve hot with a sprinkle of grated parmesan cheese.
Notes
Recipe source: Sunday Casseroles, Chronicle Books, 2014 as featured in the January 5, 2017 issue of Vancouver Sun.