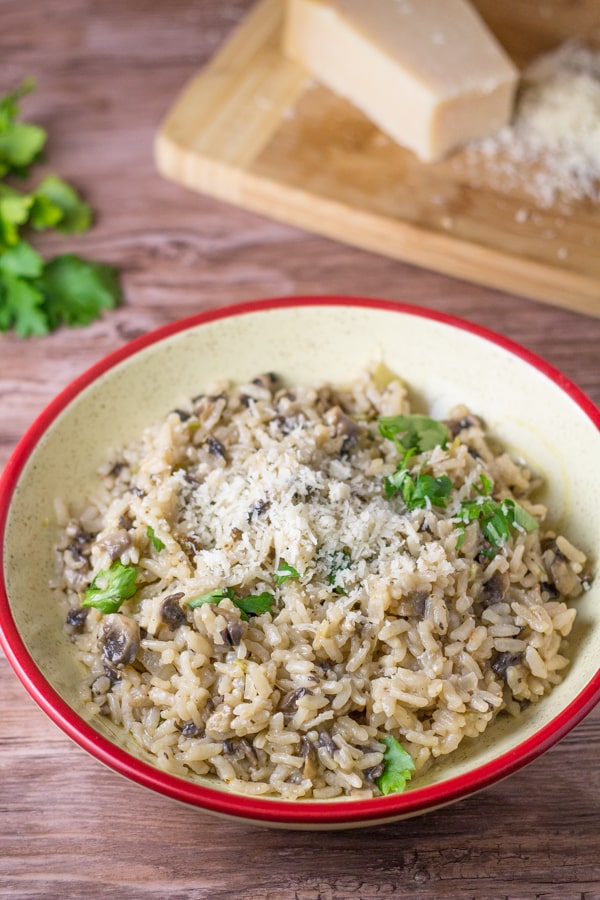 There used to be a small Italian café near our place and one of their specialties was risotto. My youngest son and I love it so much, we bought it frequently. The store closed and since then I wanted to cook risotto but I heard it requires stirring for a long time. When I stumbled upon this mushroom risotto recipe, I knew I had to make it.
This recipe of mushroom risotto by Jo from JoCooks does not require stirring for a long time. The method used is similar to cooking a regular rice. In this recipe, the rice is sauteed with the aromatics and then cooked, using milk, white wine and chicken stock as the liquids.  It came out creamy and earthy. My youngest son and I enjoyed it.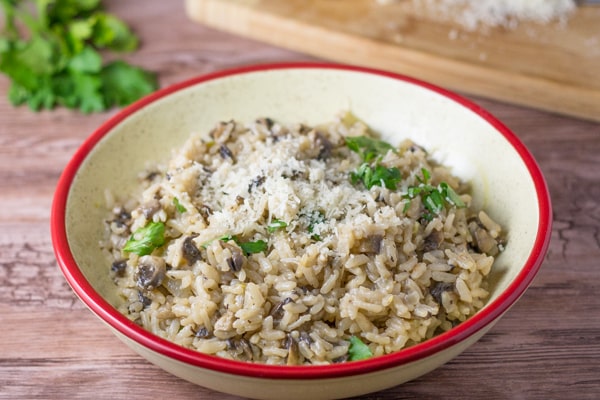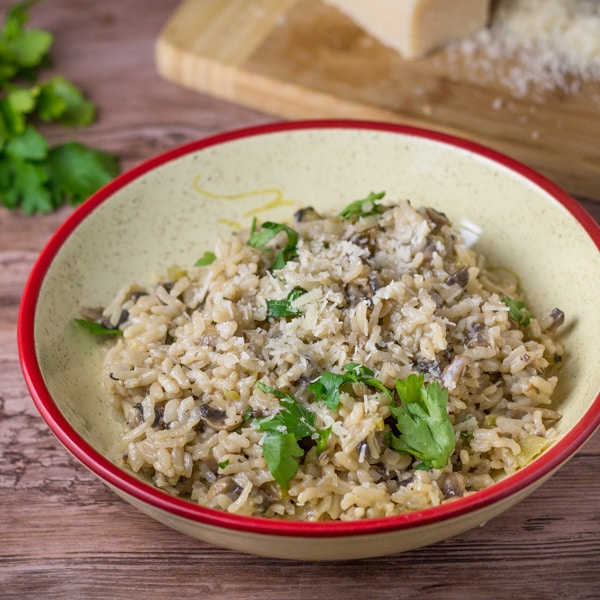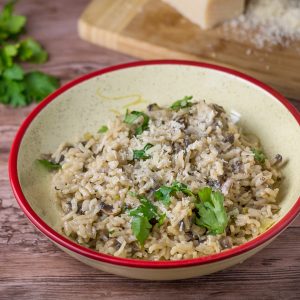 Mushroom Risotto
Ingredients
1

tbsp

avocado oil

2

tbsp

unsalted butter

1

small onion,

chopped

½

celery stalk,

cut into small pieces

1

cup

uncooked Arborio rice

8

oz

small white mushrooms,

stems removed and caps diced

¾

cup

white wine

2

cups

chicken stock

½

cup

milk

Salt and freshly cracked black pepper,

to taste

Chopped fresh parsley,

for garnish

Grated Parmigiano Reggiano,

for garnish
Instructions
In a medium pan, heat the oil and butter over medium high heat. Add the onion and celery, and cook until onion starts to soften, about 2 minutes.

Add the rice and stir to coat. Add the mushrooms and stir. Add ½ cup wine and cook, stirring until the rice has absorbed the liquid, about 2 minutes. Add the remaining ¼ cup wine and ½ cup of the chicken stock. Stir until liquid has absorbed the liquid, about 4 minutes. Add the milk and the remaining 1 ½ cup of stock and stir. Season with salt and pepper to taste.

Reduce the heat to medium and then cover the pan. Cook for 15 minutes or until the rice has absorbed all the liquid. Make sure to stir the rice mixture every couple of minutes. Remove the pan from the heat and let sit, covered for 10 minutes.

Serve, garnished with chopped parsley and a sprinkle of grated Parmigiano Reggiano.