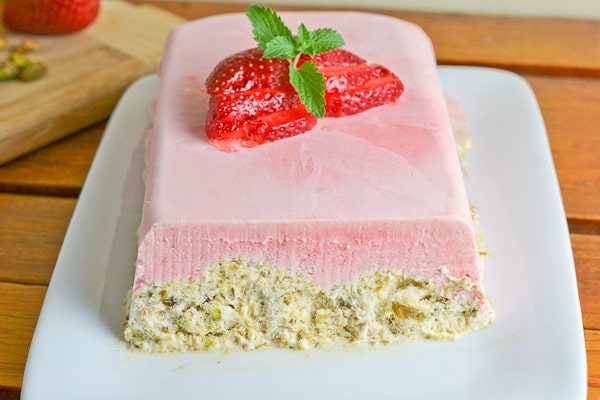 This Strawberry Pistachio Semifreddo is so good; my family and I can't get enough of it. Wikipedia defines semifreddo as "a class of semi-frozen desserts, typically ice-cream cakes, semi-frozen custards, and certain fruit tarts." It tastes and looks like ice cream but it's not quite the same.  It does not require an ice cream maker to make and just needs at least 12 hours of freezing time. Different fruits like peaches, plums, blueberries and strawberries can be used to make semifreddo. This recipe combines two awesome ingredients; strawberries and pistachios. They are so good together; they are like match made in heaven. First, pureed strawberries, custard and soft whipped cream were combined and then poured into a loaf pan lined with plastic wrap. The coarsely chopped pistachios were then folded into the remaining soft whipped cream and then poured on top of the mixture in the pan. The layered mixture was then frozen for 12 hours or more. The result was a block of chilled layered heavenly goodness.
This cold dessert is to die for! Enjoy!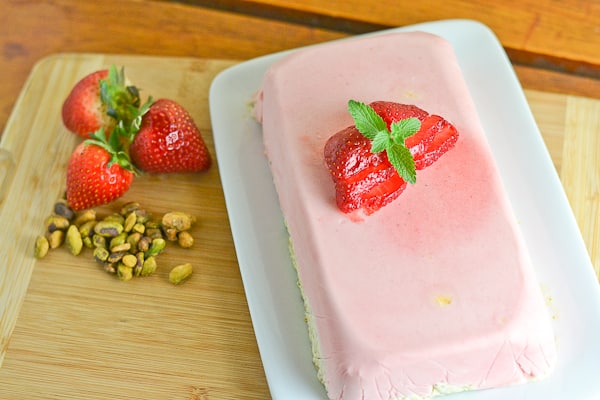 Strawberry Pistachio Semifreddo
Ingredients
½ cup unsalted roasted shelled pistachios
2 cups strawberries, hulled and sliced
½ cup plus 3 tablespoons sugar, divided
3 large egg yolks, room temperature
1½ cups cold whipping cream
½ teaspoon pure vanilla extract
Instructions
Line a standard 5-by-9-inch loaf pan with plastic wrap, leaving a 2-inch overhang on all sides. Pulse pistachios in a food processor until coarsely chopped (some will break down to a coarse grind). Transfer to a small bowl; do not wipe processor clean. Place strawberries and 3 tablespoons sugar in processor; puree until smooth and transfer to a fine sieve set over a bowl. Stir puree, pressing on solids to extract as much liquid as possible; discard solids.
Combine egg yolks and remaining ½ cup sugar in a bowl set over a pot of simmering water. Beat on high speed (or vigorously by hand) until pale yellow and tripled in volume, about 3 minutes. Transfer bowl to a larger bowl of ice water; stir until mixture is very thick and cool, about 3 minutes.
Beat together cream and vanilla in a large bowl until soft peaks form. Whisk ⅓ of whipped cream into egg mixture, whisking until smooth, then fold into remaining cream with a rubber spatula just until thoroughly incorporated.
Pour ½ of cream mixture into strawberry puree. Gently fold together until thoroughly incorporated, then pour into loaf pan and smooth top. Fold pistachios into remaining cream mixture and pour evenly over strawberry cream; smooth top. Fold plastic wrap over surface and freeze at least 12 hours and up to 3 days. To serve, peel plastic from surface. Invert pan onto a cutting board. Unmold semifreddo, remove plastic, and cut crosswise into ¾-inch-thick slices.
Notes
Recipe source: Martha Stewart Living, June 2013