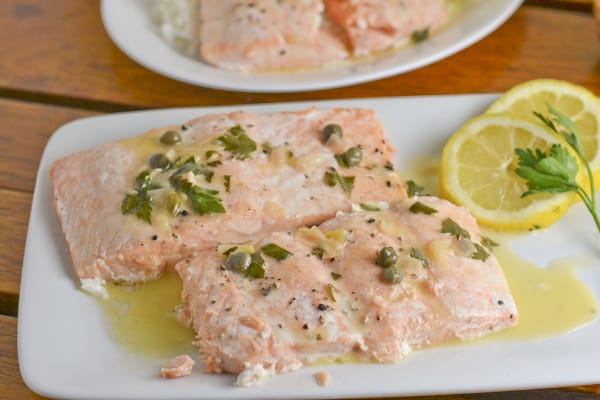 I am glad it is the weekend. It was nice to sleep in and not worry about packing lunches and getting out of the door by 8:00.  I work in a school and there are only three weeks of work before the two month summer break. This past week has been very busy. It will even get busier the next two weeks with all the scheduled year end field trips and activities that are coming up. I am so looking forward to being off for two months. To make life easier for me nowadays, I have been making easy and simple dinner on weekdays. Among those recipes is this baked salmon dish that was served with a simple but delicious sauce. After 15 minutes in the oven, the three pounds salmon fillet was perfectly cooked. It was tender, moist and succulent, just like how I like my salmon to be.  It was already good as it but a drizzle of the lemon-butter-caper sauce made it even better. Enjoy!
Salmon with Lemon Butter Caper Sauce
Ingredients
1 tbsp olive oil
3 lbs skinless salmon fillets
Salt and pepper
2 medium shallots, chopped
1⁄4 cup white wine vinegar
1⁄4 cup white wine
1⁄2 cup butter, cut into cubes
2 tbsp chopped parsley
2 tbsp drained capers
1 tbsp lemon zest
Instructions
Heat oven to 400°F.
Line a baking sheet with foil; brush with olive oil.
Season both sides of the salmon filets with salt and pepper.
Bake until salmon flakes easily, about 15 minutes.
Meanwhile in a heavy saucepan, simmer shallots, vinegar and wine until shallots are soft and very little liquid remains.
Add the butter and 2 tablespoons water, whisking constantly over high heat until the butter is melted and incorporated.
Stir in the parsley, capers and lemon zest.
Serve over the salmon.