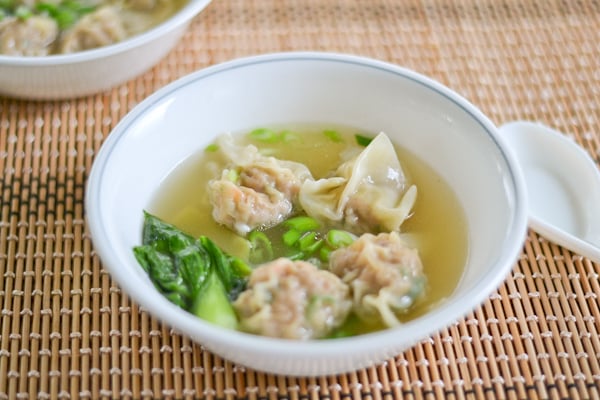 Although lots of sunshine and warm days are in the weather forecast for the next few days, we still have some days when it is cold, especially when the sun sets. Last Sunday was no different, it was cold and gloomy, a perfect day to stay inside and catch up on some household chores. For dinner, I made one of our family's favorite soups, wonton soup. I always made this soup for my family when my kids were growing up but for some reason I stopped making it. A good thing about having a food blog is that I am able to recall some of the dishes that I used to make, especially the good ones. In this recipe, I used a homemade soup stock to make the broth.  For the wontons, I used shrimp and lean ground pork and seasoned it with ginger, green onions, soy sauce, rice vinegar, salt and white pepper. It produced 40 wontons but I only used half on the soup and with the rest, our family ate them just like siomai and dip it in lemon and soy sauce dipping sauce.  The soup was delicious and flavorful, with a hint of ginger taste into it. It was a warm and comforting dinner to have on a cold rainy night. 😀

Wonton Soup
Ingredients
1 lb lean ground pork
½ lb shrimps, peeled, deveined and finely chopped
2 green onions, finely chopped
2 teaspoons grated fresh ginger
1 tablespoon soy sauce
2 teaspoons rice vinegar
¼ teaspoon salt
¼ teaspoon ground white pepper
40 wonton wrappers
10 cups chicken stock, for homemade chicken stock,
1 1-inch piece fresh ginger, peeled and sliced
Sea salt and ground white pepper to taste
½ lb baby bok choy, washed and halved
Sliced green onions for toppings
Instructions
In a large bowl, mix together the pork, shrimps, green onions, ginger, soy sauce, rice vinegar, salt and white pepper.
Fill center of wonton wrapper with 1 heaping teaspoon of filling. Wrap the edges around the filling. Repeat with the rest of the wrappers and filling.
Bring a large pot of water to a boil. Add the wontons and let boil for 4-5 minutes or until they float. Drain and set aside.
In a medium pot, bring the chicken stock to a boil, and then reduce to a simmer. Add the sliced ginger and bok choy and simmer for 2 minutes. Season the broth with sea salt and white pepper to taste. Drop in desire number of wontons you like in the soup.
Ladle the wonton soup into individual bowls and top with sliced green onions.
Enjoy!
Notes
Recipe adapted from the cookbook "The Chinese Takeout Cookbook".