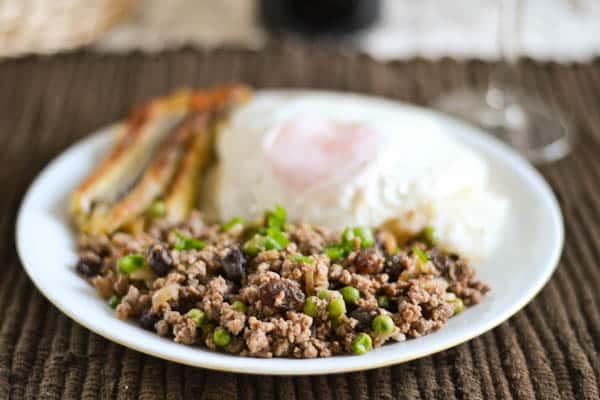 Arroz ala cubana is a dish that will always have a special place in my heart. It reminds me of the time when I was in university finishing my Bachelor's degree. I would have lunch in the school's cafeteria with my five close friends. My favorite food to order was arroz ala cubana.  It was during this time that we were able to hang out, share stories and just had good old fun.  Thanks to facebook, I am still in touch with four of them. Two of them still live in the Philippines and the other two now reside in the US. Hopefully, one day we could have a reunion and see each other again 🙂
Arroz ala cubana consists of ground beef sautéed with garlic, onion, tomato, green peas and raisins.  Diced potatoes and carrots may also be added. Salt and pepper are usually used to flavor the dish. In this recipe, I used soy sauce and oyster sauce to give it a more intense flavor.  Most people just simply eat it with rice especially if they are eating at home.  But in the restaurants, they serve it with fried egg, fried plantain banana and rice. My favorite way of eating it? With bread or bun. No matter how you serve this wonderful dish, it always ends up being a satisfying meal 🙂
Arroz Ala Cubana
Ingredients
2 tablespoons olive oil
2 cloves garlic, minced
1 onion, diced
1 medium tomato, chopped
1 lb. lean ground beef
⅓ cup raisins
½ cup water
1 tablespoon soy sauce
¼ teaspoon pepper
⅓ cup frozen green peas
2 tablespoons oyster sauce
Instructions
In hot oil, sauté garlic, onions and tomato for 2 minutes. Add beef and sauté until meat is brown, around 5 minutes.
Add raisins, water, soy sauce and pepper. Simmer stirring occasionally until most of the liquid has evaporated, around 2 minutes.
Add the peas and oyster sauce; continue cooking until peas are cooked and the mixture is quite dry, around 3 minutes. Transfer to a plate.
Serve with rice, fried egg and fried plantain banana or just simply with rice, bread or bun.
Enjoy!