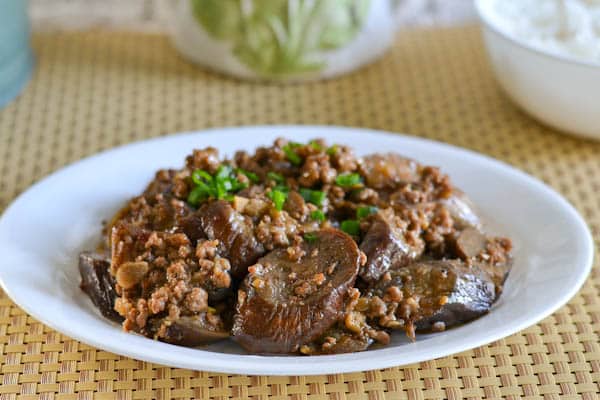 Eggplants were a staple food at my house when I was growing up. Whether it was fried, boiled, grilled, baked, stewed or stir-fried, eggplants will always be a comfort food for me.  My former neighbor and dear friend introduced me to her way of cooking eggplants, stir-frying it with ground pork and flavoring it with oyster sauce. I have been cooking eggplants this way for so many years until I came across a spicy eggplant dish at the cooked food section at a local Asian store. Since then, I would buy this dish every time I do my grocery shopping.  This past week, after searching online and adapting it according to my family's taste, I was able to replicate this wonderful dish.
In this recipe, the ground pork is first marinated with soy sauce and then stir-fried with garlic. Eggplants and the sauce are added next and cooked until the eggplants are tender. Finally, the cornstarch solution is added to thicken the sauce. The result is a delicious eggplant dish with sauce that is a bit spicy (to my own taste but not to my husband), enjoyed by my whole family 🙂

Chinese Eggplants with Chili Garlic Sauce
Ingredients
½ lb lean ground pork
1 tablespoon soy sauce
1 ½ lbs. Chinese eggplants, ends trimmed and cut on the diagonal into ½-inch slices
3 tablespoons olive oil
8 garlic cloves, thinly sliced
2 teaspoons cornstarch dissolved in 1 tablespoon water
Sauce:
⅔ cup chicken stock
4 ½ tablespoons hoisin sauce
3 tablespoons soy sauce
2 tablespoons balsamic vinegar
2 tablespoons chili garlic sauce for spicy sauce or 1 tablespoon chili garlic sauce for a mild sauce
1 teaspoon sesame oil
Instructions
Combine the pork with the soy sauce in a bowl. Stir to coat and let stand for 10 minutes.
In another bowl, combine all sauce ingredients. Set aside.
Heat oil in a large skillet over high heat. Add garlic and cook for 10 to 15 seconds. Add the pork and cook, stirring, until it changes color, 1 to 2 minutes.
Add the eggplants, stir, add the sauce and stir to mix well. Reduced the heat to medium, cover and cook until eggplants are tender, 8 to 10 minutes.
Add cornstarch solution and cook, stirring until sauce thickens. Transfer to a plate and serve with steamed rice.
Enjoy!
Notes
This recipe is adapted from Emeril Lagasse.