My husband and I love kimchi. We always have it with rotisserie chicken and steamed rice. We also like kimchi in ramen soup. There is something in kimchi that brings out the best in anything you eat it with. It could be the salty or spicy taste or the crunchy texture, or both. This recipe of combining kimchi and bacon in fried rice sounded incredibly irresistible, and I was right! I made it for my family and it did not last long. It did not even make it to the dinner table. In this bacon kimchi fried rice recipe, the fried rice was scooped directly from the skillet to individual bowls and sprinkled with sesame seeds and more dried seaweed. We then topped it with a fried egg and we had a delicious and incredible meal. Enjoy!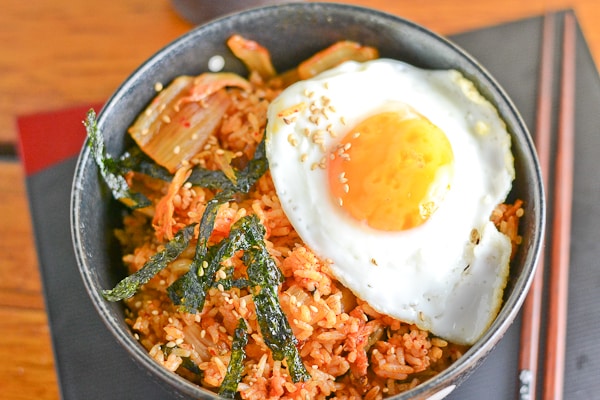 Bacon Kimchi Fried Rice
Ingredients
3 nori sheets (dried seaweed)
8 slices thick-cut bacon, cut into ½ inch crosswise
3 cups kimchi, drained (reserving liquid)
4½ to 5 cups cooked medium-grain white rice, chilled
1 tbsp toasted sesame oil
Toasted sesame seeds
4 fried eggs (optional)
Instructions
Cut the nori sheets in half with shears, and then cut into ½-inch-thick strips. Set aside.
Heat a large skillet over medium-high heat. Add the bacon and stir-fry until almost cooked through, 6 to 8 minutes. Remove bacon fat leaving about 2 tablespoons in the pan with the browned bacons.
Increase the heat to high, add kimchi and stir-fry for 4-5 minutes.
Add the rice, the reserved kimchi liquid, sesame oil and half of the nori strips. Stir, turning and flattening the rice for 2-3 minutes or until mixture are well combined.
Transfer the fried rice to a serving dish. Sprinkle with the remaining nori strips and the sesame seeds. Serve with fried egg, if desired.