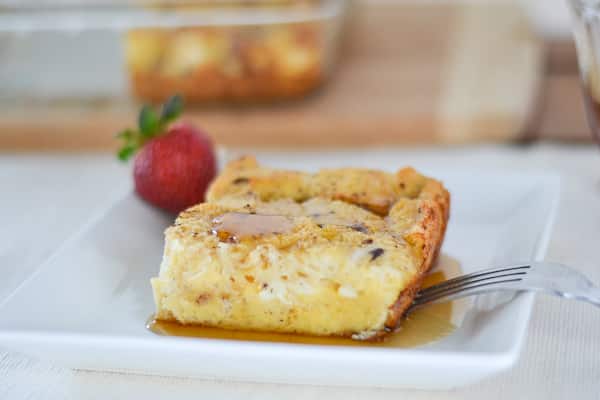 I used to make French toast for my family every Sunday. I would make it the usual way; bread soaked in a mixture of eggs, milk, salt and cinnamon and then fried in a pan of melted butter. It was really good especially with maple syrup. Then last week, I stumbled upon this recipe for baked French toast which I thought I should try. I made it on Saturday for breakfast and it turned out good but not the way I would like my French toast to be. So I looked for other baked French toast recipes and I found one that has cream cheese between layers of bread.  It required soaking the slices of bread in a mixture of eggs, milk, cinnamon and maple syrup overnight.  Since I have all the ingredients on hand, I was able to make it that night and baked it Sunday morning. This time the French toast turned the way I want it to be. The top layer was toasty and the cream cheese filling made it even more delicious. I enjoyed my French toast with extra maple syrup on it. Yummy 🙂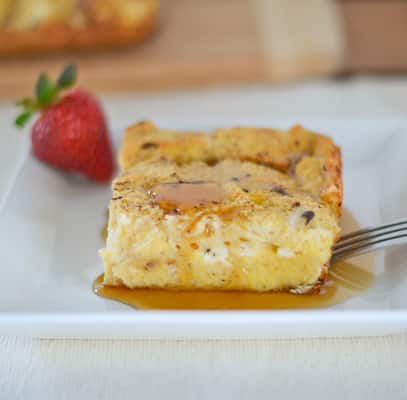 Baked French Toast
Ingredients
7-8 slices white bread, crusts removed and cut into 1" cubes
6 oz cream cheese, cut into small cubes
6 eggs, well beaten
1 cup milk
½ teaspoon cinnamon
⅓ cup maple syrup
Instructions
Cover the bottom of a greased 8" square pan with half of the bread.
Dot the cream cheese on top and cover with the remaining bread.
In a bowl, combine the eggs, milk, cinnamon and maple syrup.
Pour the mixture over the slices of bread.
Cover with plastic wrap and refrigerate overnight.
The next morning, remove the plastic wrap and bake in a preheated 375°F oven for 45-50 minutes or until puffy and golden.
Serve immediately with extra maple syrup.
Enjoy!
Notes
Recipe source: The Best of the Best and More.