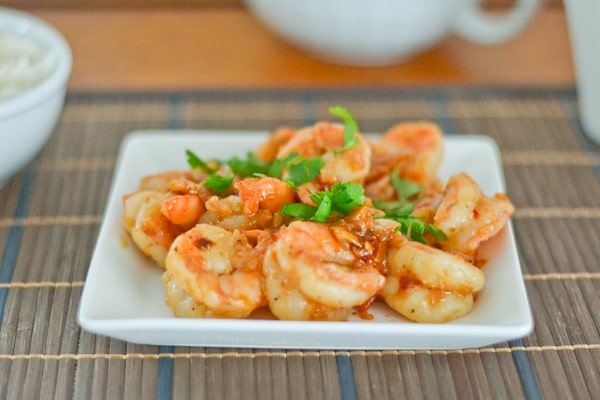 Sweet chili prawn is another quick and easy to make dish.  It consists of only a few and easy to find ingredients. This dish reminds me of chili prawn that my family always orders at a Szechuan restaurant. It is very popular because it is spicy and delicious. The problem is the price; it is expensive. It is better to make it at home because it is cheaper and I can control how much spice I can put on the dish. The original recipe calls for chili sauce but instead I used something that I have in my fridge, chili garlic sauce. The sauce turned out to be sweet and not too spicy, the way I like my chili prawn to be.  You can replace the chili garlic sauce with your favorite hot sauce. I am sure it will taste as good. Enjoy 😀

Sweet Chili Prawn
Ingredients
1 lb tiger prawns, peeled and deveined
2 teaspoons cornstarch
½ teaspoon salt
¼ teaspoon ground pepper
1 tablespoon vegetable oil
2 cloves garlic, chopped
1 teaspoon grated fresh ginger
1 shallot, finely chopped
Sauce
1 tablespoon soy sauce
1 tablespoon honey
1 tablespoon cider vinegar
1 ½ teaspoons chili garlic sauce or more for a spicier sauce
Instructions
In a large bowl, toss the prawns with the cornstarch, salt and pepper. Set aside.
In a small bowl, combine all sauce ingredients. Set aside.
Heat a large skillet over high heat. Add the oil and swirl to coat the bottom. Add the garlic, ginger and shallot and stir fry for 40 seconds.
Add the prawns and stir fry for 2 minutes or until pink.
Add the sauce and stir to coat the prawns well.
Transfer to a plate and serve.
Enjoy!
Notes
Recipe source: The Chinese Takeout