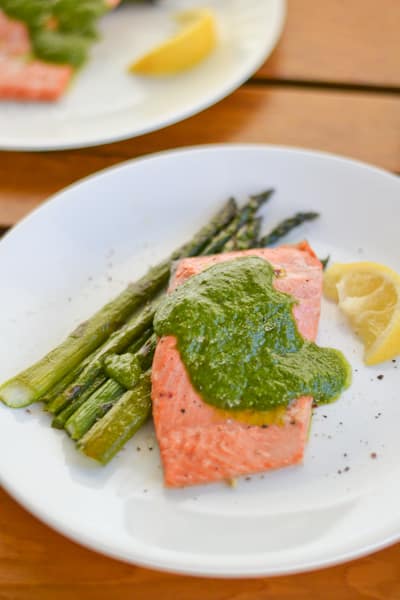 For three consecutive weeks now, I have been lucky to be able to purchase wild sockeye salmon at our local Costco. Of all the types of salmon, sockeye is my favorite because of its strong flavor and firm texture. A couple of times, I simply seasoned it with salt and pepper and baked it.  But last week, my friend at work had given me a salmon recipe she got from People Magazine. So I used this recipe to cook the sockeye salmon that I bought. The salmon pieces were first marinated in olive oil, lemon juice, honey, garlic and salt. It was then baked and served with a basil-walnut pesto. The salmon was tender and succulent while the pesto was tasty, together they were incredibly delicious! I am sure the pesto is good with any type of salmon. I have already planning what to do with my left-over pesto… use it for  pizza. 😀

Baked Marinated Salmon Fillet with Basil Walnut Pesto
Ingredients
2 tablespoons olive oil
½ cup lemon juice
2 tablespoons honey
4 garlic cloves, chopped
1 teaspoon salt
4 (4-oz) salmon fillets
Basil-Walnut Pesto
2 cups chopped fresh basil
3 garlic cloves
½ cup walnut pieces
½ cup grated Pecorino-Romano cheese
1 teaspoon lemon juice
½ teaspoon salt
⅛ teaspoon freshly ground pepper
¾ cup olive oil
Instructions
Pour the olive oil, lemon juice, honey, garlic, and salt into a resealable plastic bag. Add salmon fillets and marinate for 20 minutes in the fridge.
Meanwhile, prepare the pesto by placing basil, garlic, walnuts, cheese, lemon juice, salt and pepper in a blender or food processor. Process until coarsely chopped, then gradually add oil in a slow, steady stream, until emulsified and smooth. Set aside.
Remove the salmon pieces from the marinade and transfer on a baking pan lined with foil. Bake at preheated 350°F oven for 10-12 minutes or until fish flakes easily with a fork.
Serve with basil walnut pesto and your favorite vegetable.
Enjoy!
Notes
Recipe adapted from Daphne Oz's mix & match diet as featured in the June 3rd, 2013 issue of People Magazine.