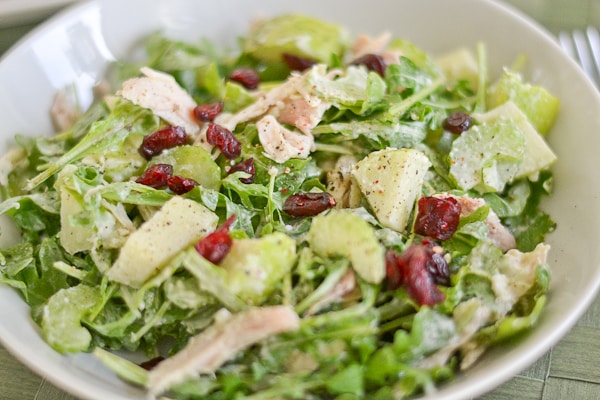 I bought two rotisserie chickens over the weekend. I used one to make a pot of chicken soup while I used the other one for salad. Using the already cooked rotisserie chicken meat is a convenient and easy way of making chicken salad. This chicken salad recipe is not only delicious but also full of flavors and texture. The apples and celery give this salad its crisp texture and the basil in the dressing complements the peppery taste of the arugula. The addition of the shredded chicken meat makes this salad a complete and hearty meal. I really enjoyed having this simple and delicious salad for dinner.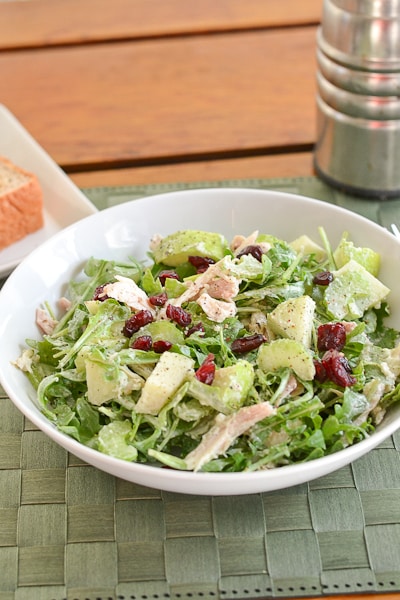 Basil-Parmesan Chicken Salad with Apples
Ingredients
1 cup olive oil or regular mayonnaise
¼ cup fresh basil leaves
½ cup grated Parmesan cheese
2 tablespoons lemon juice
2 garlic cloves, peeled
1 (2 ½-pound) rotisserie chicken, skin and bones discarded, meat shredded into bite-size pieces (3 cups)
4 celery ribs, thinly sliced
2 Granny Smith apples, cored and diced
4 ounces (4 cups) baby arugula
Dried cranberries (optional)
Salt and pepper
Instructions
Process mayonnaise, basil, Parmesan, lemon juice, and garlic in food processor until smooth and pale green, about 10 second.
Combine chicken, celery, apples, and mayonnaise mixture in a large bowl. Gently toss arugula into salad and season with salt and pepper. Sprinkle with dried cranberries, if using.
Serve and enjoy!
Notes
Recipe source: America's Test Kitchen: The Simple Recipes