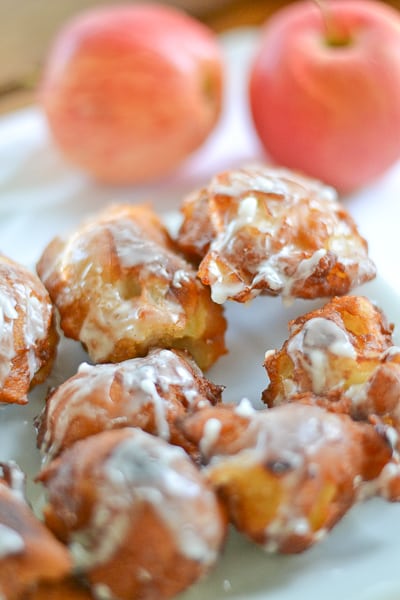 Apple fritters are my favorite type of doughnut. I love the hard crunchy exterior combined with the soft tasty apple-flavored interior. I would always order apple fritters when I am at a doughnut store.
I was quite excited when I stumbled upon this simple recipe last week.  I had the chance to make these yesterday when I came home from work and it was very quick and easy to make. The fried apple fritters drizzled with the glaze was incredibly delicious. My family and I love it so much that these donuts didn't even last a day.
Apple Fritters
Serves:
20 yummy apple fritters
Ingredients
1 cup all-purpose flour
¼ cup sugar
¾ teaspoon salt
1 ½ teaspoons baking powder
1 teaspoon cinnamon
⅓ cup milk
1 egg, beaten
1 cup chopped apples (I used Gala apples)
Vegetable oil for frying
Glaze
1 cup powdered sugar
3 tablespoons milk
Instructions
In a large bowl, whisk together flour, sugar, salt, baking powder and cinnamon. Stir in milk and egg until just combined. Fold in chopped apples.
In a deep saucepan, heat about 2 inches of oil over medium heat. Carefully add heaping teaspoons of batter to hot oil, in batches, turning once. Cook until golden brown on both sides, about 3 minutes.
Drain the fritters briefly on paper towels. Let rest on a cooling rack placed on top of a baking tray.
In a bowl, stir milk and powdered sugar together. Drizzle over apple fritters. Let glaze set before flipping the fritters over and glazing the other side. The fritters can be eaten warm or at room temperature. Enjoy!
Notes
Recipe adapted: thepickyapple.com