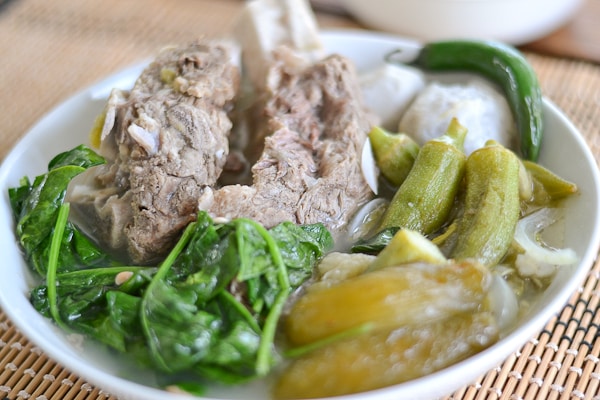 Whether it was pork, fish, shrimp, chicken or beef, sinigang was one of my favorite foods when I was growing up. My mom would frequently make this sour soup for me and my siblings. With a store to tend to and seven kids to feed, sinigang is quite easy to make compared to other Filipino dishes. During those times, she used fresh fruits to flavor the broth. Some of sour fruits that she used were green mango, santol, guava, calamansi and kamias (bilimbi). Nowadays, most people in the Philippines are using packets of sinigang mix to make sinigang soup. This is because it is cheaper, convenient and easy to use. I also used sinigang mix before but now that my family is conscious of what they eat, I went back to using natural fruits as souring agents. My favorite to use is guava because they are readily available most of the year here in Vancouver. I have also used frozen tamarind fruit before but last week, I could not find any so I used frozen kamias instead for the beef sinigang I made. I remember my mom using kamias for fish sinigang but it also works well with any kind of meat. The soup tasted just the way I remember it. It was not as sour as using a packet of sinigang mix but I know it's all natural and healthier.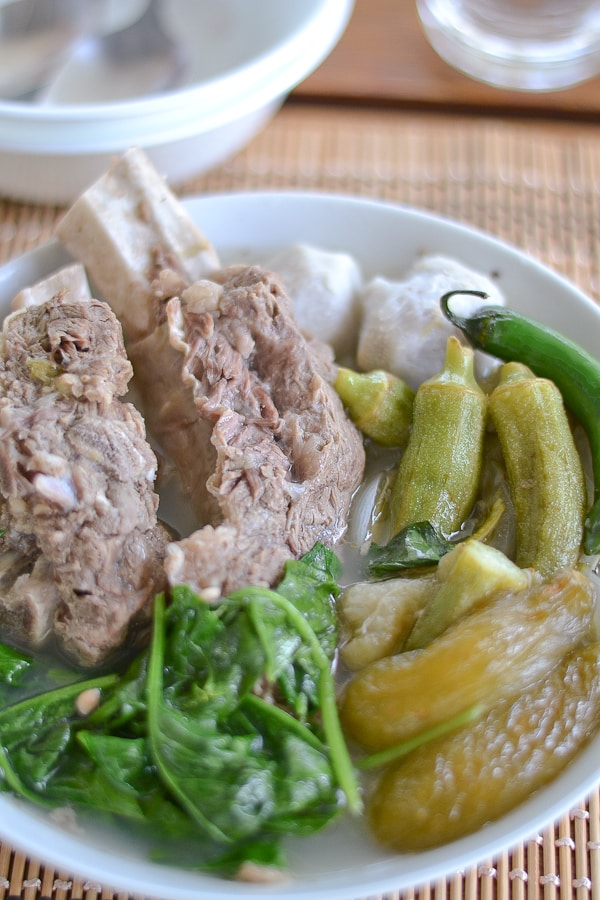 Beef Ribs Sinigang with Kamias (Bilimbi)
Ingredients
3 lbs beef back ribs or short ribs, cut into serving pieces
8-10 pcs of taro roots, peeled and cut into bite-sized pieces
½ lb okra
2 (227g) packages of frozen bilimbi (kamias), thawed (available in the frozen section of Asian store)
2 Serrano peppers
1 large onion, sliced
Fish sauce or salt to taste
Bunch of spinach, rinsed and trimmed
Instructions
Put beef ribs in a big pot and add enough water to cover it. Add salt and bring to a boil over high heat. Skim off scums accumulated on the surface, reduce heat to medium, cover and simmer for an hour and a half, or until meats are fall off the bone tender. Add more water as needed.
Add taro and cook for 10 minutes. Add okra and cook until taro is fork tender, about 5-7 minutes.
Add bilimbi (kamias) and cook until softened, about 7-8 minutes. Using the back of a large spoon, mash kamias against side of the pot to release juice into soup.
Add peppers, onion and fish sauce or salt to taste. Stir and let simmer for 5 more minutes. Stir in spinach. Remove from heat.
Serve with steamed rice. Enjoy!