My family gave this dish two thumbs up when I cooked and served it for dinner the other night. The prawns were first dipped in a batter, fried and then coated with a Sichuan style sweet and sour sauce. The sauce is not the typical one I would make. Toasted crushed peppercorns were added, hence giving the sauce a distinct taste and flavor.  The fried battered prawns are already good on its own, adding the sauce makes them even better. I am glad I made this dish; my family enjoyed it so much.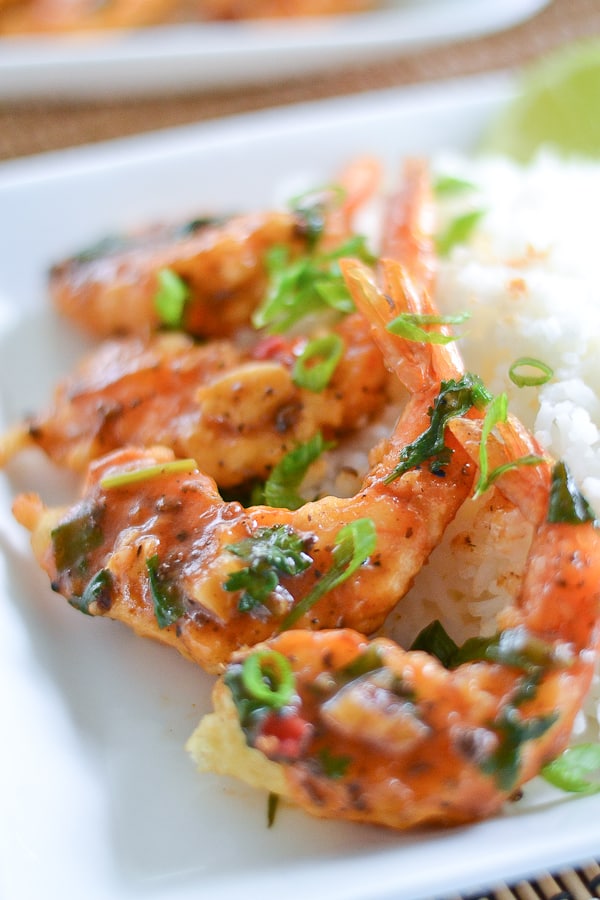 Sichuan Sweet and Sour Prawn
Ingredients
1 medium egg, beaten
½ cup cornstarch
Vegetable oil for deep frying, plus 1 tablespoon
1 lb tiger prawns or large shrimps, head and shell off, tail on, and deveined
1 tbsp Sichuan peppercorns
5 cloves garlic, finely chopped
1 tbsp grated ginger
2 medium red chillies, deseeded and finely chopped
1 tbsp lime juice
2 green onions, chopped at an angle into 1-inch pieces
1 small handful of fresh coriander, finely chopped
Sauce
2 tsp cornstarch
5 tbsp ketchup
1 tbsp brown sugar
1 tbsp soy sauce
¾ cup hot water
Instructions
Combine all sauce ingredients in a heatproof bowl. Set aside.
Put egg, cornstarch and about 2 tablespoons of water into a bowl and mix to make a batter.
Heat oil in a wok or skillet set over high heat. Dip each prawn into the batter, and fry in the hot oil until golden (it's best to do this in batches). Drain on absorbent kitchen paper. Transfer to a serving plate.
Heat a small wok or pan over a high heat. Add the peppercorns and toast for 1 minute, then crush using a pestle and mortar.
Add 1 tbsp oil to the pan. As soon as the oil starts to smoke, add the Sichuan peppercorns, garlic, ginger and chillies, stir fry for a few seconds.
Whisk sauce mixture to reconstitute, then add to the pan and bring to a boil, stirring constantly. Stir in the lime juice, green onions and coriander and remove from the heat and pour over the prawns. Serve with rice.