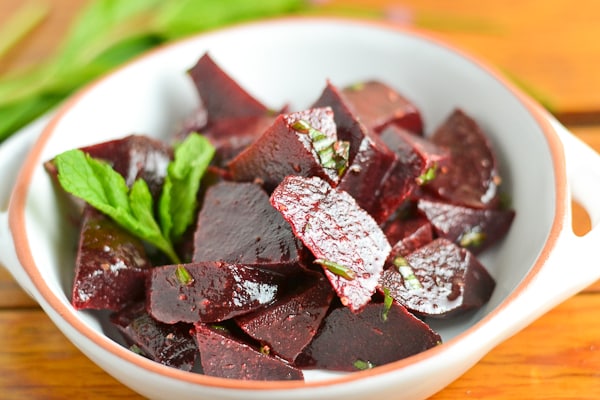 I love beets especially with goat cheese and avocado. This recipe is a new and different way of eating them. The beets were boiled first and then simply dressed with a mixture of red wine vinegar, Dijon mustard, olive oil and some aromatic herbs. It was refreshing and simply delicious! It was even better the next day. My husband and I can't get enough of this healthy and nutritious root vegetable. We even snack on them while watching TV. We specifically love their sweet taste as well as their crunchy texture. Enjoy!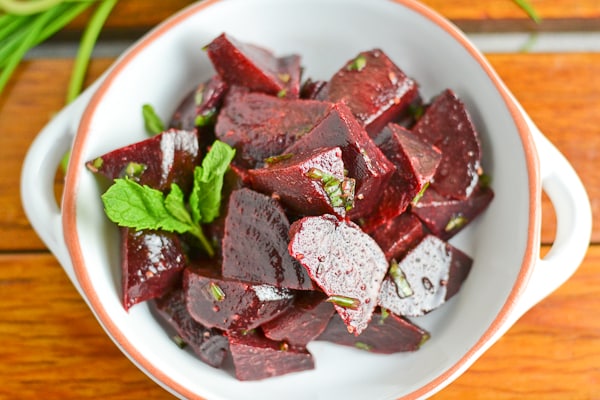 Beet and Herb Salad
Ingredients
1½ lbs beets, trimmed
1 tsp Dijon mustard
1 tbsp red wine vinegar
3 tbsp olive oil
2 tsp each chopped basil, chives and mint
Sea salt and freshly ground black pepper
Instructions
Put beets in a saucepan with water to cover and season with salt. Bring to a boil over high heat and cook until fork tender, about 20 minutes. When the beets are cool, peel and cut into bite-sized wedges.
Whisk together the mustard, vinegar and a pinch of salt and pepper. Gradually whisk in oil, until the dressing is emulsified.
Pour about half the dressing over the beets. Sprinkle in chopped herbs. Season generously with pepper. Toss well, then taste and adjust seasoning, adding more dressing or salt as needed. Let sit for at least 20 minutes before serving.