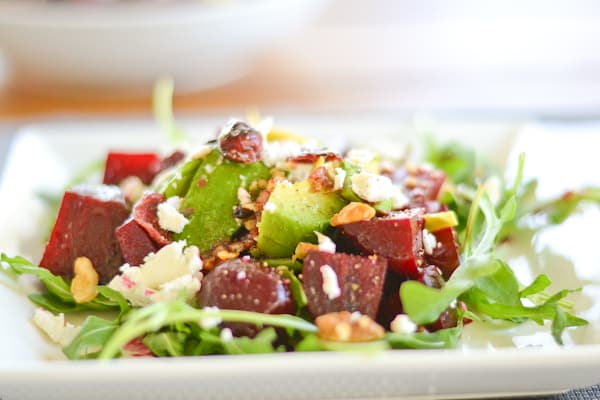 My cousin gave me a whole bunch of fresh vegetables when I went to her house last weekend. Every summer, her husband would plant different vegetables on their big backyard. I had the chance to pick some snap peas while she pulled the beets from the ground. Too bad, the green beans are not ready for picking yet. It is one of my favorites.  For lunch, among the other good dishes she served, there was a beet salad with green apples and mayonnaise. It was surprisingly delicious, something I thought I would never enjoy. So for the beets that she gave to me, I decided to make a salad with a simple vinaigrette dressing which consists of balsamic vinegar, minced red onion, honey and extra-virgin olive oil. The addition of arugula, toasted walnuts, dried cranberries, avocado and goat cheese make this salad so irresistibly delicious. I have been eating it for two days! I am so glad I made this salad; it not only taste good but also healthy and nutritious. I am hooked! 😀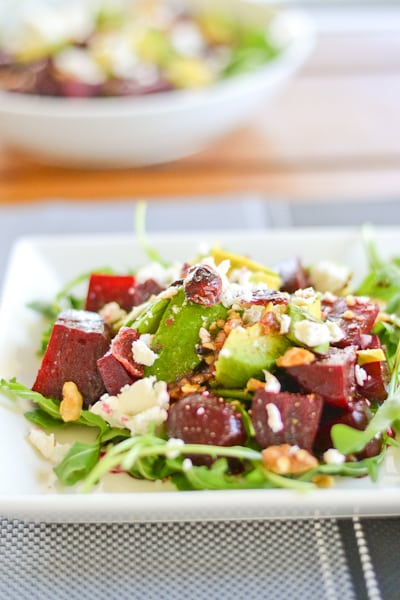 Goat Cheese and Beet Salad
Ingredients
¼ cup balsamic vinegar
3 tablespoons minced red onion
1tablespoon honey
⅓ cup extra-virgin olive oil
Salt and freshly ground black pepper
1 ½ lbs beets
6 cups fresh arugula
½ cup walnuts
¼ cup dried cranberries
½ avocado, peeled, pitted and cubed
3 oz soft goat cheese, coarsely crumbled
Instructions
Preheat oven to 350°F. Spread the nuts on a baking sheet and oven-toast, stirring once, until golden brown, about 8 minutes. Set aside to cool and then chop coarsely.
Put beets in a saucepan with water to cover and season with salt. Bring to a boil over high heat and cook until fork tender, about 20 minutes. When the beets are cool, peel and cut into bite-sized wedges.
Whisk the vinegar, red onions, and honey in a medium bowl. Gradually whisk in the oil. Season the vinaigrette with salt and pepper, to taste. Toss the beets in a small bowl with enough dressing to coat and let stand for 15 minutes.
Toss the arugula, walnuts, and cranberries in a large bowl with enough vinaigrette to coat. Season the salad with salt and pepper. Mound the salad on top of 4 plates. Arrange the beets and avocado around the salad. Sprinkle with goat cheese.
Serve and enjoy!
Notes
Recipe adapted from Giada De Laurentiis and Food Network Kitchens.