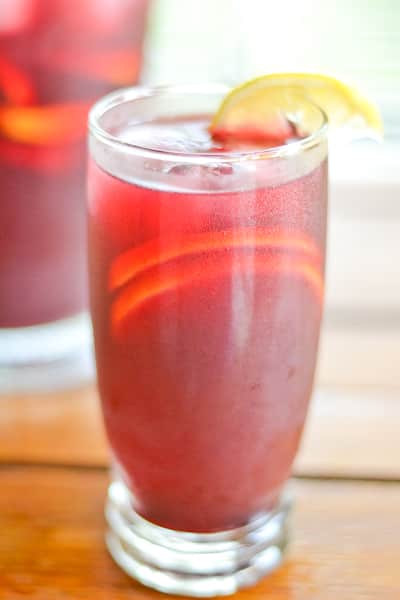 Rooibos tea, a caffeine free tea native to South Africa is my favorite tea to drink nowadays.  I first heard of this anti-oxidant rich red tea from Dr Oz a few weeks ago and since then I have been consuming at least a cup of this wonderful tea each day.  But with the hot summer days that we are having here in Vancouver, BC, it is nice to have this tea cold and with my favorite berries – blueberries. This rooibos iced tea is not only light and refreshing but also healthy; an ideal drink to serve when you have friends come over for a visit. 🙂

Blueberry Rooibos Iced Tea
Ingredients
4 bags rooibos tea
2 cups fresh or thawed blueberries
¼ cup packed brown sugar
1 tbsp lemon juice
Lemon wedges
Instructions
In large heatproof measure or bowl, steep tea in 8 cups boiling water for 5 minutes. Discard bags.
Meanwhile, in large saucepan, bring blueberries and 1 cup water to boil. Reduce heat and simmer, stirring often, until blueberries break down, about 5 minutes. Add to tea.
Add brown sugar and let cool to room temperature, about 30 minutes. Refrigerate for at least 2 hours.
Strain through cheesecloth-lined sieve into pitcher, pressing solids gently so beverage stays clear. Stir in lemon juice. Serve over ice cubes. Garnish with lemon wedges.
Enjoy!
Notes
Recipe source: canadianliving.com