My oldest son has been asking me to make pulled pork for a long time now. In fact, on our way to Calgary two weeks ago, we stopped by a burger place to have pulled pork sandwich for lunch. My son had tried it before and he was raving about how good it was. He wanted us to try it and was looking forward to having it again. Unfortunately, the pulled pork sandwich was not being served anymore; it was only offered for a limited time. Pulled pork has been quite popular; I always see it featured on food network shows and even fast food joints are serving it. So when I saw this recipe online, I decided to try it. In this recipe, the pork was seared first and then cooked in the slow cooker for 8 hours. The meat turned out so tender and very tasty. I served this delicious pulled pork as sandwiches: piled high on buns and topped with creamy coleslaw. The sandwich was delicious; the coleslaw complements the saucy spiced pulled pork really well. 😀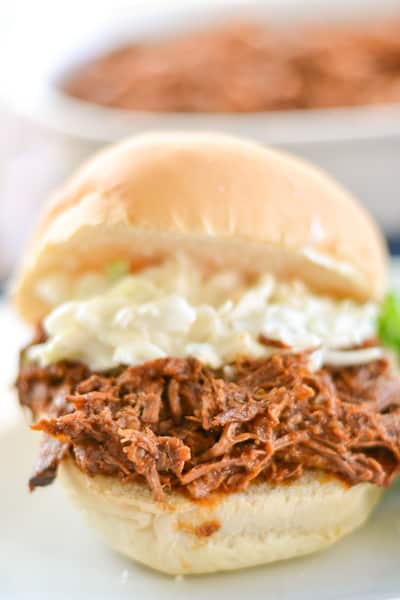 Slow Cooker Pulled Pork Sandwich
Ingredients
3 ½ lbs pork shoulder blade roasts
Kosher salt and freshly ground black pepper
2 tablespoons vegetable oil
2 onions, chopped
4 cloves garlic, minced
2 tablespoons chili powder
2 teaspoons ground coriander
2 bay leaves
¼ cup tomato paste
1 can (14 oz/398 ml) tomato sauce
2 tablespoons packed brown sugar
2 tablespoons cider vinegar
2 tablespoons Worcestershire sauce
2 green onions, chopped
Instructions
Season pork with salt and pepper. In a Dutch oven, heat oil over medium-high heat; add pork and cook until brown all over. Transfer to slow cooker.
In the Dutch oven, add onions, garlic, chili powder, coriander and bay leaves; cook, stirring often, until onions are softened, about 5 minutes.
Add tomato paste and cook, stirring for 2 minutes. Add tomato sauce, sugar, vinegar and Worcestershire sauce, scraping up any browned bits. Pour mixture all over the pork in slow cooker. Cover and cook on low until pork is tender, 8 to 10 hours.
Transfer pork to cutting board and let stand for 10 minutes. Using 2 forks, shred or "pull" pork. Set aside.
Meanwhile, pour liquid from slow cooker into large saucepan; skim off fat. Bring to a boil over high heat; boil until mixture has been reduced to 3 cups, about 10-12 minutes. Discard bay leaves.
Add pulled pork into the sauce and stir to coat. Sprinkle with green onions.
Serve on buns with creamy coleslaw.
Enjoy!