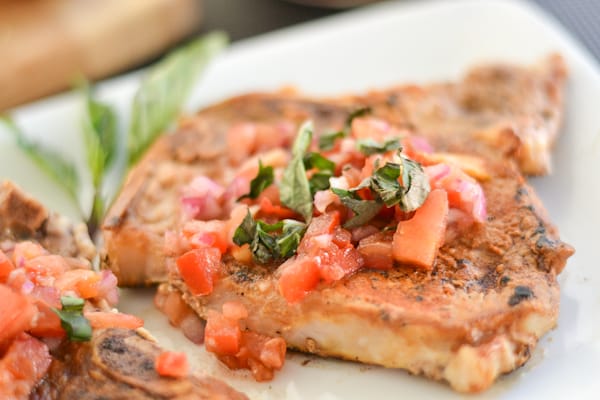 I saw this recipe from a flyer of a local meat shop. I love the idea of how the cooked pork chops were served bruschetta style. The chops were supposed to be grilled but I opted to bake them instead. I first seared the chops to give them a nice color. Then, the chops were finished by cooking them in the oven. I know it was a lot of work but personally it was worth the time and effort. The chops were browned, moist and tasted good with the tomato-basil-balsamic mixture. Love it!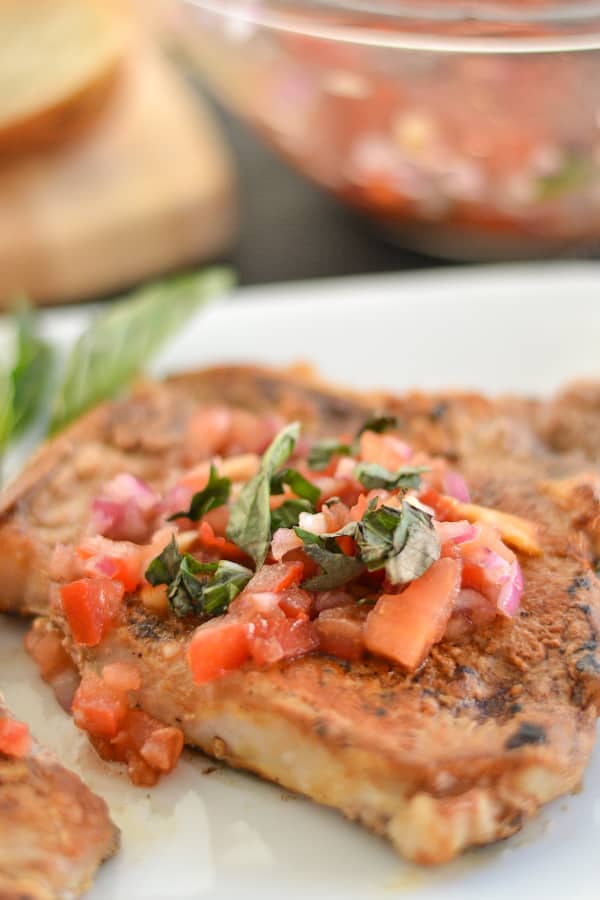 Bruschetta Style Baked Pork Chops
Ingredients
2 bone-in pork chops or (4 if you can fit them in the pan)
Salt and pepper
2 large, very firm, tomatoes, diced small
½ large red onion, finely diced
3-4 cloves garlic, finely minced
2 tbsp olive oil, plus 1 tsp
1 ½ tbsp good balsamic vinegar, plus more for drizzle
Fresh basil leaves, cut into thin strips
½ tsp salt
Instructions
Heat the oven to 400°F and arrange a rack in the middle.
Pat the pork chops dry with paper towels and rubs them all over with 1 tsp olive oil. Season both sides generously with salt and pepper.
Heat a large oven-safe frying pan over medium-high heat. Place the chops in the pan and cook undisturbed until they're golden brown on the bottom, about 3 minutes.
Flip the chops over and immediately place the pan in the oven. Bake until the chops are golden brown on the second side and the temperature registers 145°F on an instant-read thermometer inserted into the thickest part of each chop, about 7 to 10 minutes.
Using a kitchen towel or potholder, take the pan out of the oven. Transfer the chops to a plate and let rest for 5 minutes.
Make the bruschetta by tossing together the tomatoes, onion, garlic, 2 tbsp olive oil, balsamic vinegar, basil leaves and salt.
Top chops with a spoonful of bruschetta and drizzle with balsamic vinegar. Serve the rest of bruschetta with slices of toasted baguette.
Notes
Recipe sources:
Chow.com
and Meridian Meats and Seafood flyer