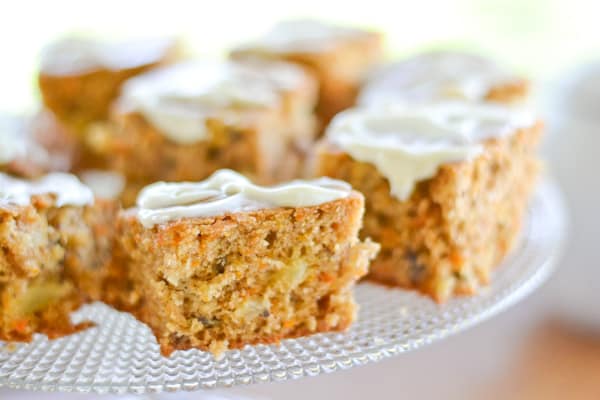 Along with banana cake, carrot cake is a popular treat to bring to any party or gatherings. My cousin shared this carrot cake recipe on facebook.  When I saw crushed pineapples and pecans in the list of ingredients, I knew it would be good and decided to make it. I wasn't disappointed; the cake was moist and very delicious. The addition of crushed pineapple and chopped pecans gives this cake a nice taste and texture. No wonder it is Canadian Living's most popular recipe ever. My whole family love it, including my health conscious husband, who ate it plain, without the frosting. 😀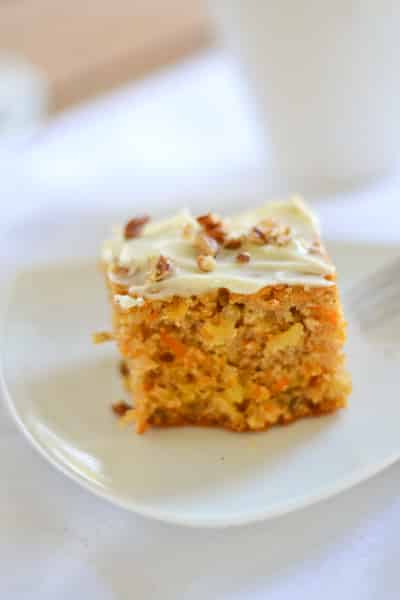 Canada's Best Carrot Cake with Cream Cheese Icing
Ingredients
2 cups (500 mL) all-purpose flour
2 tsp (10 mL) baking powder
2 tsp (10 mL) cinnamon
1 tsp (5 mL) baking soda
¾ tsp (4 mL) salt
½ tsp (2 mL) nutmeg
¾ cup (175 mL) granulated sugar
¾ cup (175 mL) packed brown sugar
3 eggs
¾ cup (175 mL) vegetable oil
1 tsp (5 mL) vanilla
2 cups (500 mL) grated carrots
1 cup (250 mL) drained crushed canned pineapple
½ cup (125 mL) chopped pecans
Icing:
1 8 oz (250g) package cream cheese, softened
¼ cup (60 mL) butter, softened
½ tsp (2 mL) vanilla
1 cup (250 mL) icing sugar
Instructions
Grease and flour 13- x 9-inch(3.5L) metal cake pan; (or 2 round pans) set aside.
In large bowl, whisk together flour, baking powder, cinnamon, baking soda, salt and nutmeg. In separate bowl, beat together granulated and brown sugars, eggs, oil and vanilla until smooth; pour over flour mixture and stir just until moistened. Stir in carrots, pineapple and pecans. Spread in prepared pan.
Bake in centre of 350°F (180°C) oven for 35- 40 minutes or until cake tester inserted in centre comes out clean. Let cool in pan on rack for at least 20 minutes.
In bowl, beat cream cheese with butter until smooth. Beat in vanilla. Beat in icing sugar, one-third at a time, until smooth. Spread over top of cake.
Notes
Recipe source: canadianliving.com