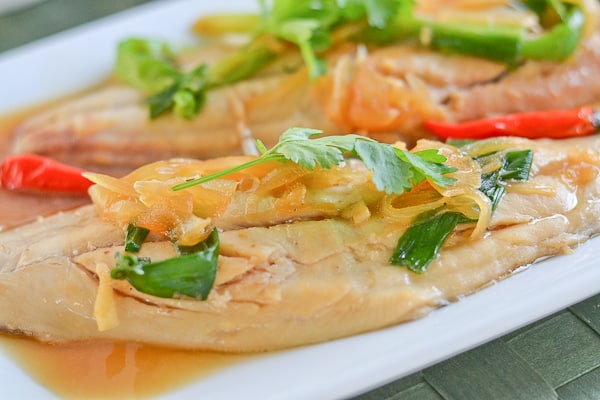 My family loves fish and some of our favorites are salmon, cod, and sea bass. My husband and I also love eating milkfish and mackerel because they are what we grew up eating. They are abundant and commonly eaten in the Philippines. I normally cook mackerel by frying it, so when I saw this dish featured on Vietnamese-Australian chef Luke Nguyen's TV show, I was really interested. I went to buy the ingredients and was lucky to find this Spanish mackerel in our local Asian store. They even cleaned, gutted and filleted the fish for me. I asked for the bones and head of the mackerel, which I was able to use to make the fish stock needed for this recipe. I like the way the mackerel was cooked on a bed of green onions and a mixture of caramelised sugar, fish sauce, fish stock, coconut water, chilies and sautéed garlic and onions. The fish was perfectly cooked in 5 minutes. The meat was tender and nice while the taste was a perfect balance between sweet (sugar) and salty (fish sauce). This caramelised mackerel is delightfully delicious and definitely a keeper. Enjoy!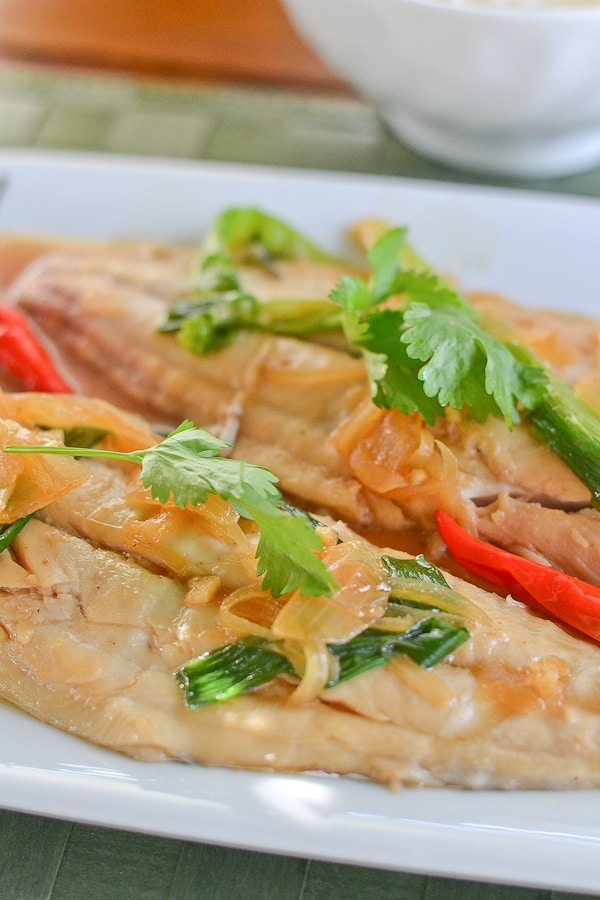 Caramelized Mackerel
Ingredients
1 tsp olive oil
1 onion, chopped
2 cloves garlic, chopped
6 tsp white sugar
3 tsp fish sauce
½ cup fish stock
½ cup coconut water
2 red chilies
2 green onions, sliced into 1½-inch pieces
2 mackerel fillets (I used Spanish mackerel)
Cilantro leaves, for garnish
Instructions
In a pan, heat oil over medium high heat. Add onions and garlic; cook for 3 minutes, or until fragrant and softened. Set aside.
In a non-stick skillet, heat the sugar over medium heat until caramelized, 3-4 minutes. Add the fish sauce, quickly followed by the fish stock. At this point, the melted sugar will hardened. This is okay. Bring the sauce to a boil and let simmer for 5 minutes, or until sauce has reduced. Stir constantly to melt the hardened sugar.
Add the cooked onions and garlic to the caramel sauce. Bring to a simmer, then add coconut water, chilies and spring onions.
Add the fish fillets, skin side up and laying the thin tail of the fish on top of the spring onion, so it does not overcook. Cook for 5 minutes or until the fish is cooked through, occasionally spooning sauce over the fish. Transfer cooked fish to a plate, spoon sauce over and garnish with cilantro.
Serve and enjoy!