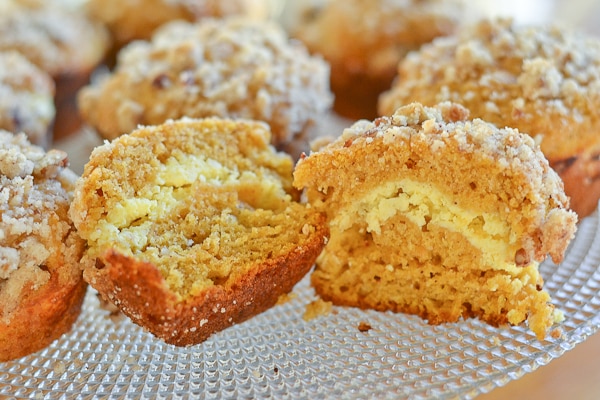 Baked goods with cream cheese fillings are so popular nowadays especially if they are pumpkin-flavored. I have wanted to make these incredible pumpkin muffins ever since I tasted them at Tim Horton's. It is especially good with a cup of hot coffee. I am not a big fan of pumpkins but these yummy treats are to die for. A bite of this muffin with the crunchy crumb topping and the cream cheese filling will bring a smile to any one's face. Delightfully satisfying!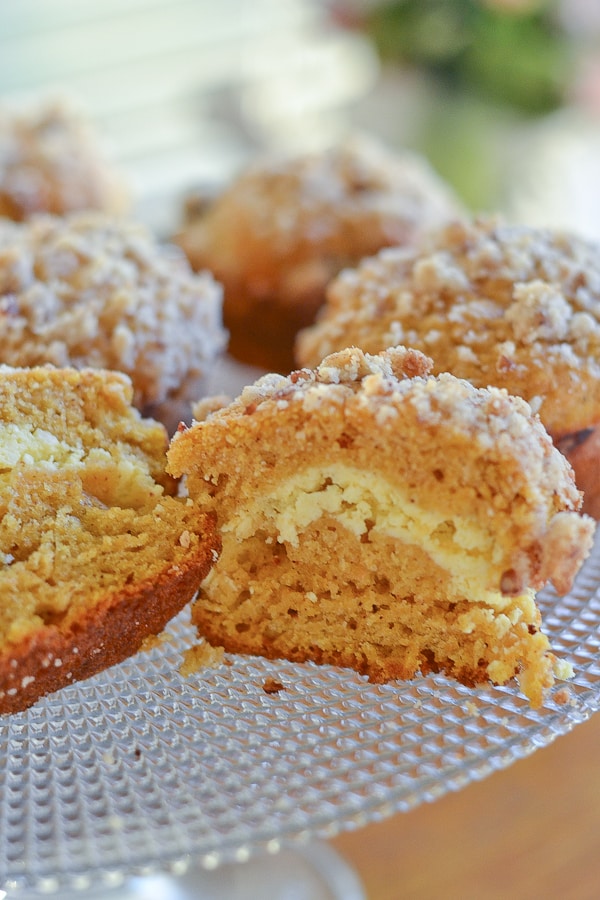 Pumpkin and Cream Cheese Muffins
Ingredients
For cream cheese filling:
8 oz cream cheese, room temperature
1 egg
3 tbsp sugar
For the streusel:
5 tbsp sugar
½ cup all-purpose flour
¼ cup pecans, roughly chopped
3 tbsp butter, melted
½ tsp ground cinnamon
For the batter:
1 ½ cups sugar
2 cups all-purpose flour
½ tsp salt
2 tsp baking powder
¼ tsp baking soda
2 tsp ground cinnamon
2 eggs
1¼ cups pumpkin puree
⅓ cup(s) vegetable oil
½ tsp vanilla extract
Instructions
Heat oven to 375 degrees F. Lightly coat 18-cup standard muffin tins with oil and set aside.
In a small bowl, mix together ingredients for cream cheese filling; set aside.
In a medium bowl, toss together ingredients for streusel; set aside.
In a large bowl, combine 1 ½ cups sugar, 2 cups flour, salt, baking powder, baking soda and 2 teaspoons cinnamon. In a separate medium bowl, lightly beat 2 eggs, pumpkin, oil, and vanilla together. Make a well in the center of the flour mixture, pour the pumpkin mixture into the well, and mix with a fork just until moistened. Evenly divide half of the batter among the muffin cups. Place one teaspoonfuls of cream cheese filling in the center of each cup and fill with the remaining batter. Sprinkle some of the pecan mixture over the top of each muffin and bake until golden and a tester, inserted into the muffin center, comes out clean, 20 to 25 minutes. Cool on wire racks.