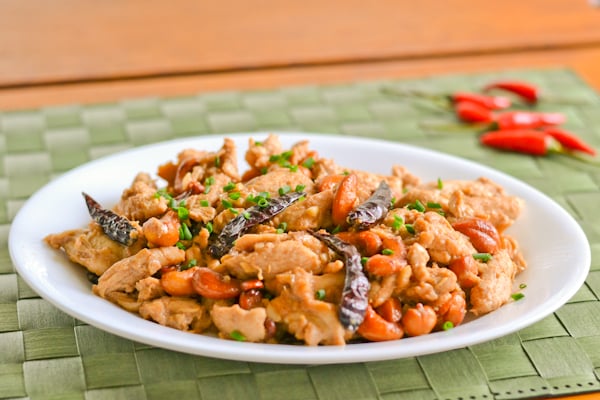 I bought a jar of cashew nuts when I went shopping on the weekend. I used some to bake a batch of butterscotch bars with cashews and chocolate chips for my son's friend. With still a lot left, I decided to use some for a chicken recipe that I have been longing to make since my niece lent me her Thai cookbook.  This cashew chicken dish is so simple and easy to make. It consists of a few ingredients of which I have in my pantry and freezer. Surprisingly, this dish is not spicy despite the dozen pieces of dried chili peppers that was used. The chili peppers were used to flavor the oil and gave a distinct taste to this dish. So, you may omit the chili peppers if you are not fond of spicy food or just try not to bite into it, just like I did! 😀

Cashew Chicken
Ingredients
1 lb skinless, boneless chicken thighs or breasts cut into small strips
4 cloves garlic, minced
2 teaspoons white ground pepper
4 tablespoons Chinese rice wine or dry sherry
1 tablespoon cornstarch
3½ tablespoons soy sauce
1 dozen dried chili peppers
½ cup whole raw cashew nuts
3 tablespoons cooking oil
Instructions
In a bowl, combine the garlic, ground pepper, wine, 2 tablespoons of soy sauce and cornstarch. Add the chicken meat and stir to coat. Cover with plastic wrap and let marinate in the fridge for 30 minutes.
Heat the oil over medium heat. Add the cashew nuts and chili peppers. Stir-fry until cashew nuts turn golden. Remove both chili peppers and cashews from oil with a strainer. Set aside.
Using the same pan, add the marinated chicken. Stir and cook until the chicken is done. Add 1 ½ tablespoons soy sauce, stir and mix until the chicken meat is evenly coated and looks golden brown.
Add the chili peppers and cashew nuts. Mix well and remove from heat.
Transfer into a serving plate and serve with steamed rice.
Enjoy!
Notes
Recipe adapted from the cookbook "Thai Cooking in a Sufi's Kitchen".