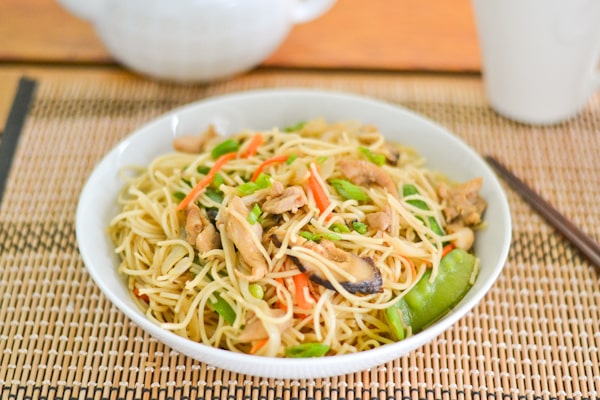 I love chow mein, a food that I consider as one of my comfort foods. In fact, once or twice a month, I would order this house special chow mein from a local Chinese restaurant. I love that type of chow mein because it consists of so many different ingredients such as shrimp, squid, fish, chicken, barbeque pork, shitake mushrooms and bok choy. That is a dish that I would definitely like try to make in the future. For this recipe, I used chicken thighs as the main protein and added some of my favorite vegetables as well. This is such a versatile dish; you can add any vegetables you like. Furthermore, it is a dish that the whole family will love, children and adults, alike. 😀

Chicken Chow Mein
Ingredients
10 oz boneless, skinless chicken thighs, cut into strips
14 oz (400g) dried Chinese style chow mein noodles
8 dried shitake mushrooms
1 onion, thinly sliced
2 oz snow peas
½ green bell pepper, sliced into thin strips
1 medium carrot, julienned
1 cup fresh bean sprouts
1 tablespoon sesame oil
3 tablespoons vegetable oil
1 tablespoon oyster sauce
Marinade
1½ tablespoons soy sauce
1 tablespoon Chinese rice wine or dry sherry
Sauce
½ cup chicken stock
2 tablespoons soy sauce
1 ½ tablespoons oyster sauce
¼ teaspoon white pepper
Instructions
Soak the shitake mushrooms in warm water for 15 to 20 minutes. Squeeze out the excess water. Discard the stems and thinly slice the caps. Set aside.
In a small bowl, combine the ingredients for the marinade. Add the chicken pieces and stir to coat. Cover with a plastic wrap and let stand at room temperature for 15 minutes.
Meanwhile, cook the noodles in boiling water just before al dente, around 2 minutes. Drain the noodles, rinse under cold water and drain again thoroughly. Transfer to a bowl and toss with the sesame oil.
Prepare the sauce by combining all the ingredients in a small bowl. Set aside.
Heat a wok or large skillet over medium high heat. Add 1 tablespoon vegetable oil and swirl to coat the bottom. Add the chicken and stir fry until no longer pink, about 2 minutes. Add the onions, snow peas, bell pepper, carrots, bean sprouts, and mushrooms. Cook for another 3 minutes, or until the vegetables are tender-crisp. Add 1 tablespoon oyster sauce and stir until well incorporated. Transfer to a plate and set aside.
Using the same wok or skillet, add the remaining 2 tablespoons vegetable oil. Swirl to coat the bottom of the pan. Add the noodles and stir-fry for a minute. Make a well in the middle of the noodles and pour in the sauce. Return the chicken and vegetables to the pan and stir until everything is well coated and heated through. Transfer to a plate and serve.
Enjoy!
Notes
Recipe adapted from "The Chinese Takeout Cookbook".