I stumbled upon this skillet chicken mushroom pot pie recipe while I was reading the local newspaper at work one day last week. I have made a chicken pot pie before and it was a big hit with my family. I like this recipe because it uses rotisserie chicken meat, which I find very tasty and convenient to use. It also consists of fresh vegetables like shiitake mushrooms, onions, carrots and peas. The vegetables were first sauteed in butter and then flour, paprika, stock, sherry and milk were added to make a creamy sauce. The chicken and frozen peas were added last. Instead of rolled pastry, the chicken and vegetable mixture was then covered with slices of bread and then baked in the oven until bubbly and breads are golden in color. The result was a creamy and tasty dish that my family and I enjoyed. It was a delicious and comforting dish to have on a cold rainy night. This skillet chicken and mushroom pot pie is a complete meal on its own and one dish that I will definitely make again and again. Enjoy!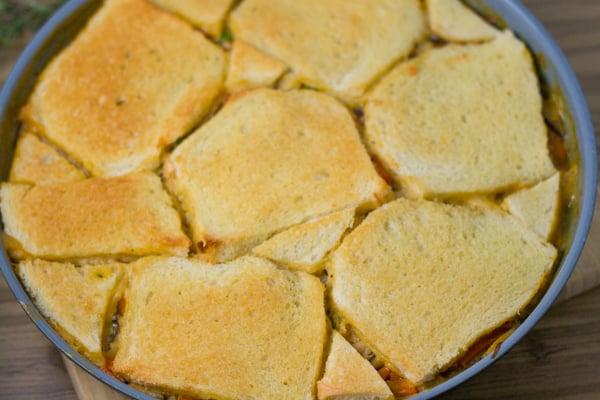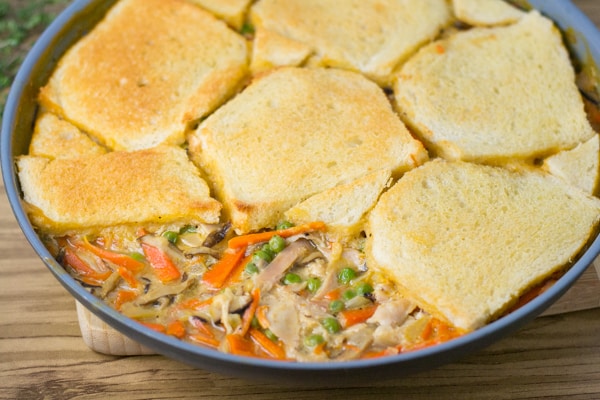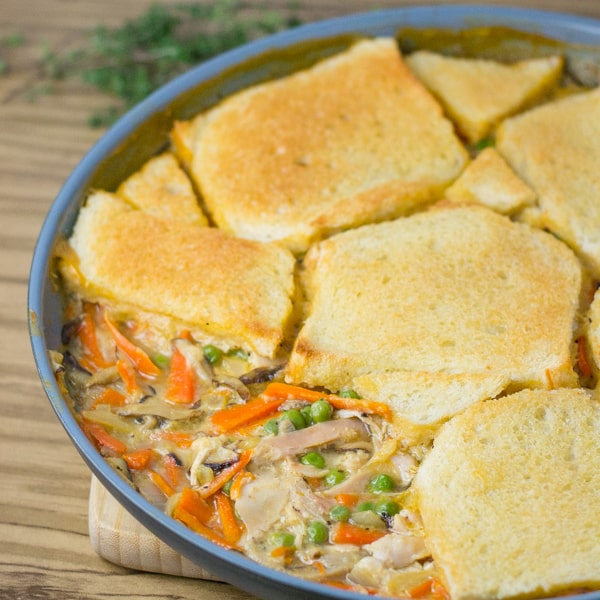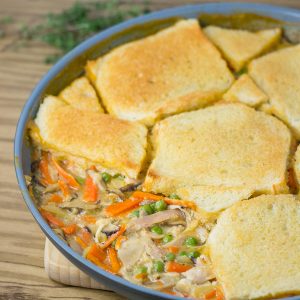 Skillet Chicken Mushroom Pot Pie
Ingredients
4

tbsp

softened butter

divided

1

medium onion

chopped

7

oz

fresh shitake mushrooms

stems discarded and caps thinly sliced

2

carrots

thinly sliced

Salt and freshly ground pepper

to taste

3

tbsp

all-purpose flour

1

tsp

sweet paprika

1

cup

chicken stock

2

tbsp

sherry cooking wine

2

cups

milk

3

cups

shredded rotisserie chicken meat

½

cup

frozen peas

7- 8

slices

of white bread

crusts removed
Instructions
Preheat oven to 425 degrees F.

Melt 2 tablespoons of the butter in a large ovenproof non-stick skillet over medium high heat. Add onion, mushrooms, carrots; season lightly with salt and pepper.

Cover and cook over high heat, stirring once, until vegetables are just softened, about 1 minute. Uncover and cook, stirring constantly, until vegetables are lightly browned, about 3 minutes.

Add flour and paprika and cook, stirring, for one minute. Gradually add stock and sherry; cook, stirring, until smooth and well blended. Add milk and bring to a gentle boil.

Stir in chicken and peas and season with salt and pepper. Remove from heat.

Arrange bread over chicken mixture, trimming it to fit snugly in a single layer. Brush the bread with remaining butter. Bake for about 20 minutes, until filling is bubbly and bread is golden. Serve immediately.
Notes
Recipe source: adapted by Kasey Wilson from "Reinventing the Classics" by Dana Cowin and featured in the November 2, 2016 issue of The Province