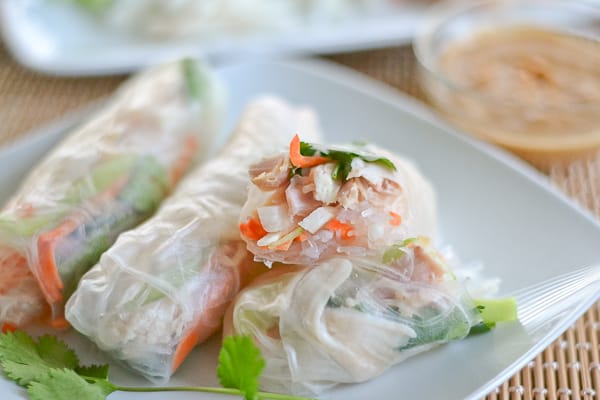 Jicama or singkamas as we call it in the Philippines is a root vegetable that resembles a turnip. It is usually eaten fresh and we, Filipinos love to dip it in vinegar or sprinkled with salt. This sweet and juicy vegetable is also used in salads and rolls. Along with cucumber and carrots, jicama adds crunchiness and freshness to this salad roll. It even tastes better when dipped in the peanut dipping sauce. Refreshingly delicious!
Chicken and Jicama Salad Rolls with Peanut Dipping Sauce
Ingredients
2 oz (58g) dried bean vermicelli noodles
½ English cucumber, peeled and halved lengthwise
4 oz (114g) peeled jicama root
12 (8-inch) round rice paper wrapper
½ cup shredded carrot
1 ½ cups of shredded rotisserie chicken meat
Cilantro leaves, thoroughly rinsed and dried
Peanut dipping sauce
¼ cup crunchy peanut butter
3 tbsp hot water
2 tbsp cider vinegar
1 tbsp soy sauce
2 tsp brown sugar
Hot sauce to taste
Instructions
Prepare the dipping sauce by combining all ingredients and whisk until smooth. Set aside.
Place the noodles in a bowl and cover with hot water. Soak for 5 minutes, or until softened. Drain well in a mesh strainer and set aside.
Use a spoon to scrape out and discard the seeds from the cucumber halves. Cut each piece into thin strips. Set aside.
Cut the jicama into thin slices, and then cut into thin matchsticks. Set aside.
Fill a large bowl (larger than the rice wrappers) with warm water. Soak one wrapper in the water until just barely softened, about 10 seconds. Carefully remove the rice wrapper from the water and lay flat on the counter.
Place a bundle of noodles along one edge of the wrapper.
Top the noodles with a bit each of cucumber, jicama, carrots and chicken, then top with couple of cilantro leaves.
Roll the wrapper, starting with the filling side, folding the ends over the fillings as you roll to form a tight cylinder.
Repeat with the rest of the remaining wrappers and filling. Serve with the dipping sauce.
Notes
Spring rolls recipe adapted from Elizabeth Karmel as featured in January 12, 2014 issue of "The Province".
Peanut dipping sauce recipe adapted from" Enjoy Cooking: The Costco Way".