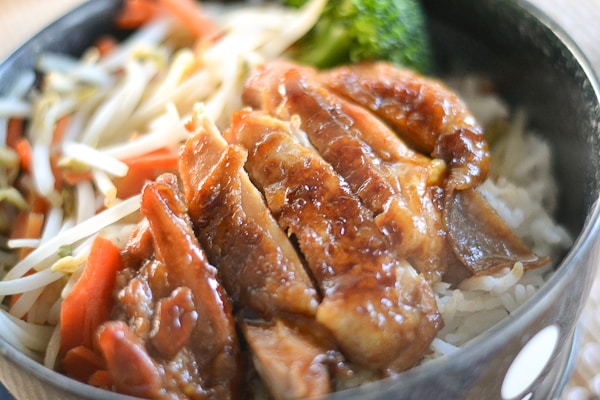 I love Fridays.  Not only because it is almost the weekend but also because I don't cook dinner.  We usually order sushi or chicken/ beef teriyaki from a local Japanese restaurant. Their chicken teriyaki is so good I tried to recreate it at home. I have tried many recipes and this recipe is I would say the closest one. The deboned skin-on chicken thighs were first marinated for an hour before it was fried, steamed and coated with a thick caramelized sauce. It was then sliced and served on a bed of rice and steamed vegetables of bean sprouts, mushrooms, zucchini and broccoli. It is a perfect dinner on a Friday night!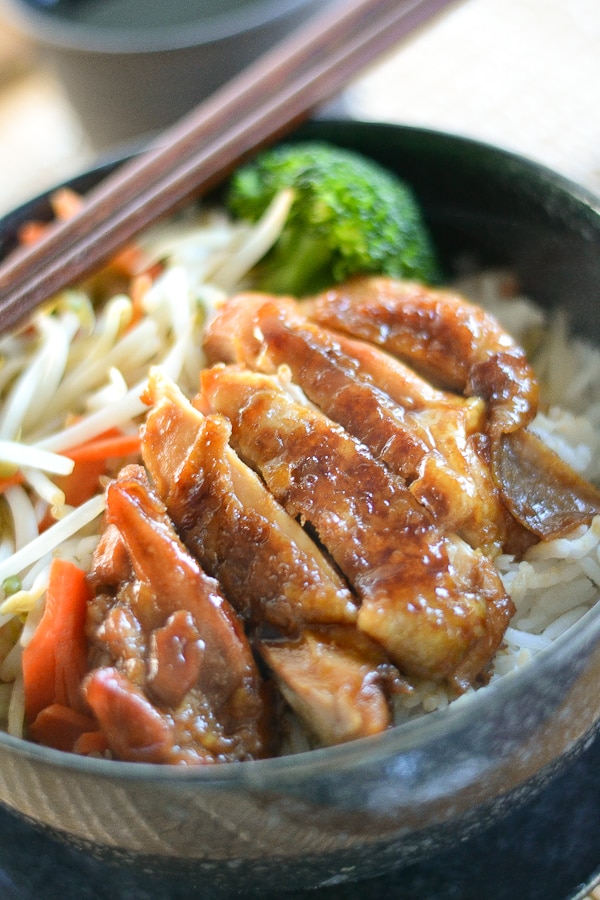 Chicken Teriyaki
Ingredients
4-6 skin-on chicken thighs, deboned
1 tbsp vegetable oil
1 tbsp sake
Marinade
½ cup water
2 tbsp soy sauce
2 tbsp brown sugar
2 tbsp mirin
Teriyaki sauce
2 tbsp honey
2 tbsp mirin
2 tbsp sake
2 tbsp soy sauce
Instructions
Combine the water, soy sauce, brown sugar and mirin in large ziploc bag and add the chicken thighs. Seal the bag and let the chicken marinade in the fridge for at least an hour. Remove the chicken pieces from the marinade and pat dry with paper towels.
Heat the oil in a non-stick frying pan over medium heat. Place the chicken skin-side down in the pan and fry until golden brown on one side, about 2 minutes.
Flip the chicken, then add 1 tablespoon of sake and quickly cover the pan with a lid. Steam the chicken until it is just cooked through, about 5 minutes.
Prepare the teriyaki sauce by mixing 2 tablespoons each of: honey, mirin, sake, and soy sauce. Stir to combine.
Turn up the heat to high, and then add the teriyaki sauce. Let this mixture boil, while flipping the chicken repeatedly to coat evenly.
The chicken teriyaki is done when most of the liquid has evaporated and the sauce forms a thick glaze around the chicken. Slice and pour the remaining teriyaki sauce over the chicken.
Notes
Recipe adapted from: norecipes.com