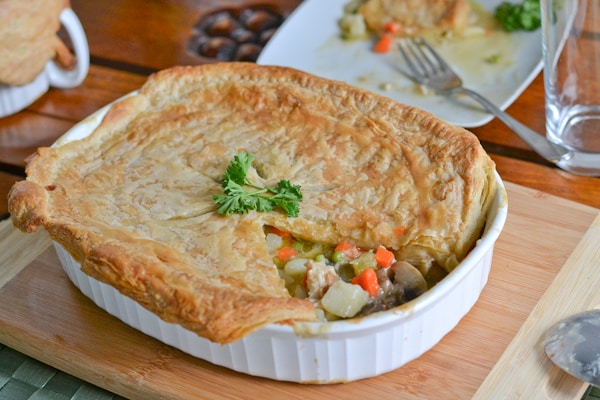 I've wanted to make chicken pot pie ever since the cold winter weather has started.  It is such a delicious and comforting food to have on any cold winter day. It is not only satisfying but also a complete meal by itself.  So after much researching and planning, I was finally able to make it on the weekend.
In this recipe, I used roast chicken meat because I know it will add more flavor to the dish. Vegetables like onion, carrots, celery, potatoes, green peas and mushrooms were added to complete this dish. The mixture was then covered with rolled pastry and baked for 45 minutes. The result was a creamy and tasty dish that my family couldn't get enough of.  It was such a hit with my family; they asked if I could make more next time. 😀

Chicken Pot Pie
Ingredients
3 cups cooked and diced chicken (I used roast chicken meat)
¼ cup butter (or less, if preferred)
¼ cup flour
1 teaspoon salt
½ teaspoon ground pepper
2 tablespoons finely chopped onion
3 cups chicken broth
1 cup cubed carrots
1 cup chopped celery
2 cups cubed potatoes
3 cups chopped mushrooms
½ cup peas
2 tablespoons butter
Frozen puff pastry dough, defrosted overnight in refrigerator
Instructions
Melt ¼ cup butter in a large saucepan over medium heat. Blend in flour, salt, pepper and onion.
Gradually stir in chicken broth; cook, stirring constantly until smooth and thickened.
Add carrots, celery and potatoes; cook until fork tender, around 7 minutes. Remove from heat and set aside.
In a small frying pan, melt 2 tablespoons butter over medium heat. Add the mushrooms and cook for 4 minutes.
Add mushrooms, peas and chicken meat to vegetable mixture. Mix well and pour into a 3 quart casserole.
Roll out pastry on a lightly floured surface. Put the pastry over the casserole, pressing edges with the back of a fork and poking the top several times with a fork to allow steam to escape.
Bake in preheated 400°F oven for about 45 minutes, or until pastry is golden. If pastry becomes too brown, cover loosely with a foil.
Serve and enjoy!
Notes
Recipe adapted from "The Best of the Best and More".