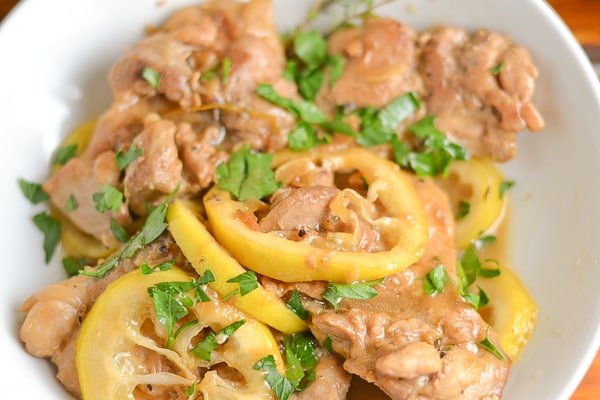 We have been so lucky here in Vancouver because we've had a milder and shorter winter than normal.  It led to an early spring and an early budding of some flowers as well as some herbs. My bay leaf, chives, mint, oregano and thyme have thrived and I have been using them a lot in my cooking. There's nothing like fresh herbs to add flavor and fragrance to recipes. Fresh thyme is one of my favorite herbs to use. I have used them in stews, sauces and roasts and used them to flavor fish, potatoes, pork, beef and chicken.  This chicken recipe uses thyme and flat-leaf parsley, another favorite herb of mine. These two herbs, along with white wine vinegar, soy sauce and lemon, give this dish so much flavor and aroma. We love fresh herbs so much; my husband and I decided to plant more herbs in our garden this year.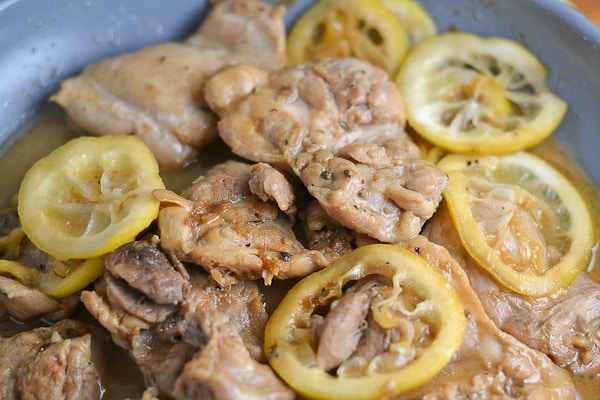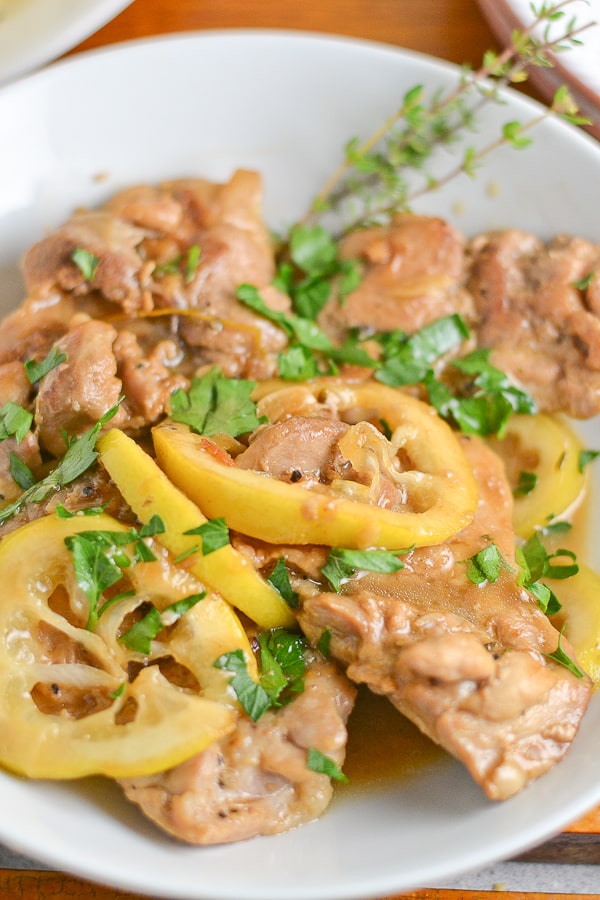 Chicken Thigh with Lemon and Thyme
Ingredients
2 lbs skinless, boneless chicken thighs
Sea salt and freshly ground pepper
3-4 tbsp olive oil
2 cloves garlic, sliced thinly
Few Thyme sprigs
¼ cup white wine vinegar
2 tbsp dark soy sauce
3 tbsp honey
½ cup water
1 lemon, thinly sliced
Chopped flat-leaf parsley
Instructions
Season chicken with salt and pepper.
Heat olive oil in a large skillet or pan; brown the chicken pieces (in batches if necessary) over high heat with the garlic and thyme for 2–3 minutes on each side until golden brown.
Return all the chicken to the pan, add the vinegar and let it boil until mixture is reduced by half. Add soy sauce and honey; stir to mix.
Add water and lemon slices; simmer until chicken is cooked and mixture is thick and syrupy, about 10 minutes or so.
Serve with a sprinkle of chopped parsley.
Enjoy!