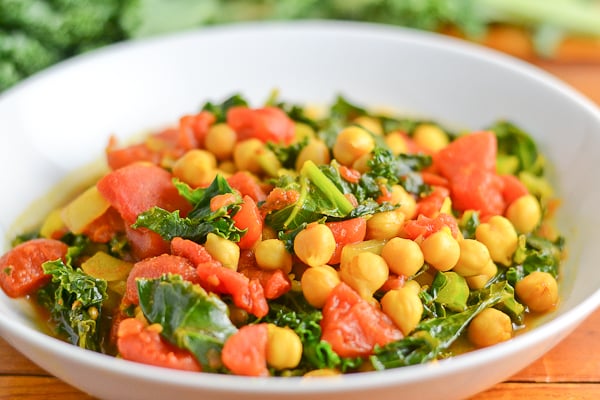 Chickpea is my favorite among all the legumes. I like the tender and delicious starchy taste. I like it in salads as well as in stews. In the Philippines, we call it garbanzo beans. Filipinos frequently use it in some popular dishes like menudo and callos (tripe stew). This chickpea curry recipe is my new way of serving chickpea. It is simple to make and yet jam packed with health benefits. It can be eaten as is or with steamed rice. Either way, it is delicious and very filling. Enjoy!
Chickpea Curry with Kale
Ingredients
1 tbsp olive oil
1 medium onion, chopped
1 tsp ground turmeric
½ tsp coriander seeds
1 tsp yellow curry powder
½ tsp cumin
1 (28 oz) can diced tomatoes
5 leaves of kale, chopped
2 (19oz/540ml) cans chickpeas, rinsed and drained
Kosher salt to taste
Instructions
Heat the oil in a large saucepan. Add chopped onions, turmeric, coriander seeds, curry, cumin; stir-fry on medium heat for 1-2 minutes, periodically stirring.
Add diced tomatoes, kale, and chick peas; cover and cook for 5 minutes.
Season with salt and more curry powder, if desired.
Serve by itself or as a side dish.