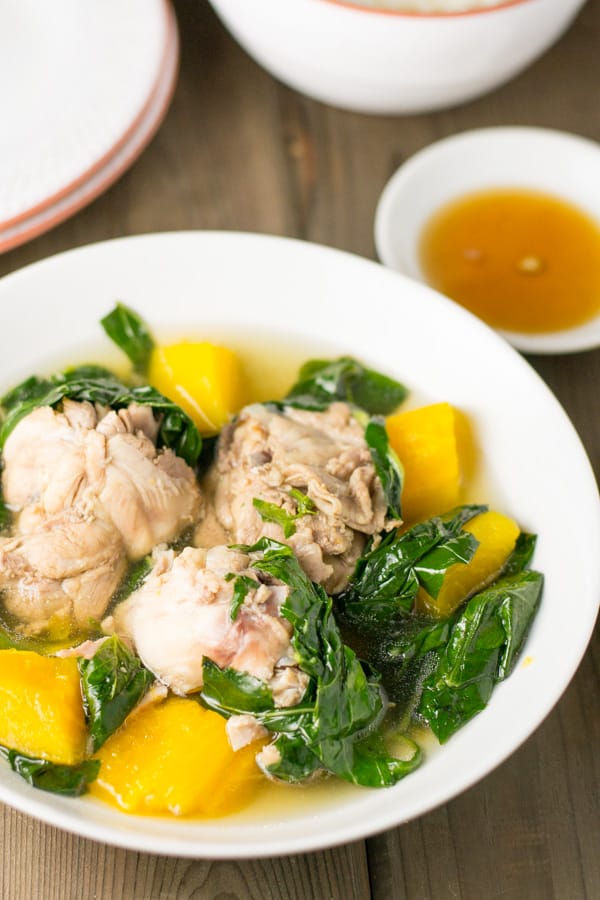 Along with sinigang (tamarind based soup), chicken tinola was my favorite soup when I was growing up. Tinolang manok traditionally consists of chicken pieces cooked in broth flavored with ginger, onion and fish sauce. Green papaya and pepper leaves are then added afterwards.
My mom's tinola is different from the traditional one. She uses semi-ripe papaya instead of the regular green one. I have tried both and I prefer the semi-ripe one because the broth tastes better and adds sweetness to it.  Others use malunggay instead of pepper leaves but I personally prefer to use spinach for the simple reason that it is readily available here in Vancouver. My family loves chicken tinola all year round especially on cold winter days.
INGREDIENTS:
Chicken pieces – I use chicken thighs in this recipe but other pieces of chicken may also be used.
Aromatics: ginger and onion – adds aroma and impart deep flavor to this dish.
Vegetable oil – brings out the flavor of the aromatics.
Fish sauce or salt – adds a savory and umami flavor to this dish
Water – is used to cook and soften the chicken pieces
Papaya – add sweetness and texture to the broth
Spinach leaves – add flavor and texture as well as nutritional benefits
Optional: serrano pepper – adds a certain taste and flavor to the broth
HOW TO MAKE CHICKEN TINOLA (TINOLANG MANOK):
To make this chicken tinola (tinolang manok) recipe, first season the chicken pieces with salt. Next, sauté the chicken with the aromatics until brown and the meat is no longer pink.  Then, season the browned chicken with fish sauce. Add the water next, and bring the mixture to a boil. Lower the heat and cook the chicken for 35 minutes. Next, add the papaya and further cook for 5 minutes. Correct the seasoning by adding more fish sauce or salt, if needed. Finally add the leaves (spinach or pepper) and serrano pepper, if using. Turn off the heat, cover the pot and let stand for a few minutes to let the spinach and serrano peppers impart their flavors into the broth.
TIPS:
To achieve tastier and flavored chicken pieces, season them before cooking.
Make sure to give the chicken pieces time to brown before adding the water. This step is necessary for flavorful chicken pieces.
I used semi-ripe papaya in this chicken tinola recipe. It adds nice sweetness to the broth.
Other regions use chayote instead of papaya.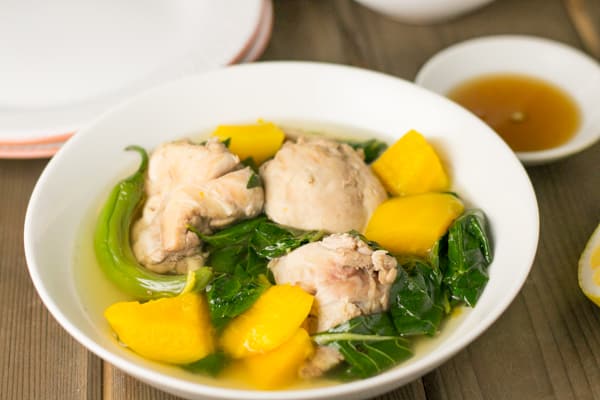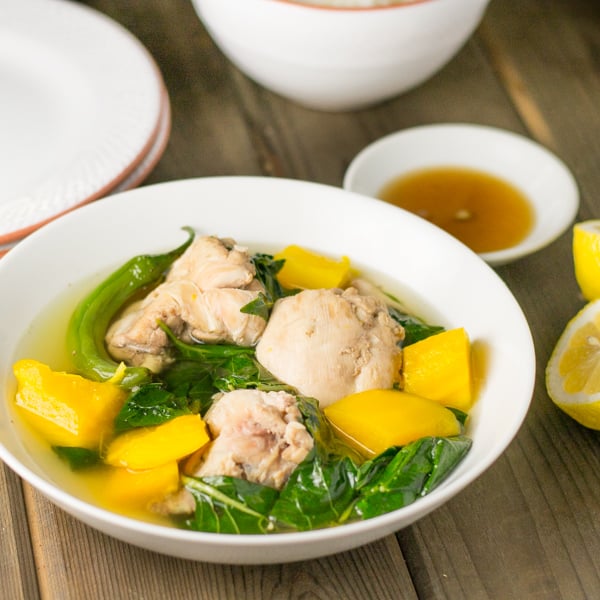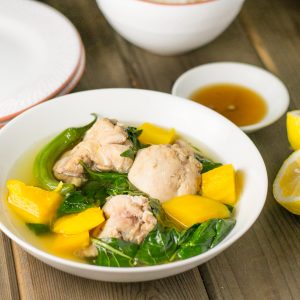 Tinolang Manok (Chicken with Papaya Soup)
Ingredients
2

lbs

skinless chicken thighs or any chicken pieces of your choice

sea salt

1

thumb size ginger

peeled and julienned

1

medium onion

chopped

2

tablespoons

vegetable oil

1

tablespoon

fish sauce

10

cups

water

1

semi-ripe papaya, peeled

seeds removed and cut into cubes

Bunch of spinach or pepper leaves,

trimmed

2

pieces

Serrano peppers

optional
Instructions
Season chicken pieces with salt. Set aside.

In a pot, heat the oil over medium high heat. Add the ginger and onion, and sauté until onion is soft, about 2 minutes.

Add the chicken and cook for 4 minutes or until the meat is no longer pink.

Add the fish sauce and stir to combine flavor.

Add the water and bring to a boil. Lower the heat to medium and simmer until chicken is cooked, about 35 to 40 minutes.

Add the papaya and cook for another 5 minutes or until the papaya is tender.

Season to taste by adding fish sauce or salt. Add the spinach (or pepper leaves) and serrano peppers, if using. Cover and remove from heat.

Serve with steamed rice and fish sauce with lemon juice on the side.
Video